Letter from the Executive Board
Dear Aurubis shareholders and friends of the company,
There are some fiscal years where optimism and pessimism seem to follow in quick succession. Just when we thought the Covid-19 pandemic might be over, Russia launched an attack on Ukraine in violation of international law. This war in Europe has compounded existing problems in supply chains already strained by the Covid-19 pandemic, and was the catalyst for the current energy crisis. Over the past fiscal year, we at Aurubis have met these challenges, while setting an important strategic course for the years to come. In this extremely difficult environment, we can be proud of our smelters' operating performance, the significant improvements made in occupational safety, and our exceptionally strong financial performance.
A year ago, Aurubis set out on a path to long-term growth with its revised strategy. The focus is on securing and strengthening our core business, pursuing growth options in the area of recycling, and expanding our industry leadership in the area of sustainability.
We consistently made significant investments in our core business in 2021 and 2022. Over € 120 million was spent just on modernizations at our two primary smelter sites in Hamburg and Pirdop. This will ensure productivity and high plant availability in the future as well. A total of more than 480 maintenance, environmental protection, and improvement measures were carried out in Hamburg alone. And these investments have already paid off: Our smelter sites showed very good operating performance in 2021/22. Pirdop, for example, operated for 365 days without a single interruption to production.
Investing in the primary smelters has helped us process copper concentrates with different complexities. The high demand for industrial metals such as copper, nickel, and tin, which Aurubis produces, will not be met by recycling. Over the long term, our company will depend on the increasing inflow of concentrates from responsible mine production. This means we need more commitment in Europe to developing existing local deposits and an open, non-ideological conversation about the global sourcing of copper concentrates.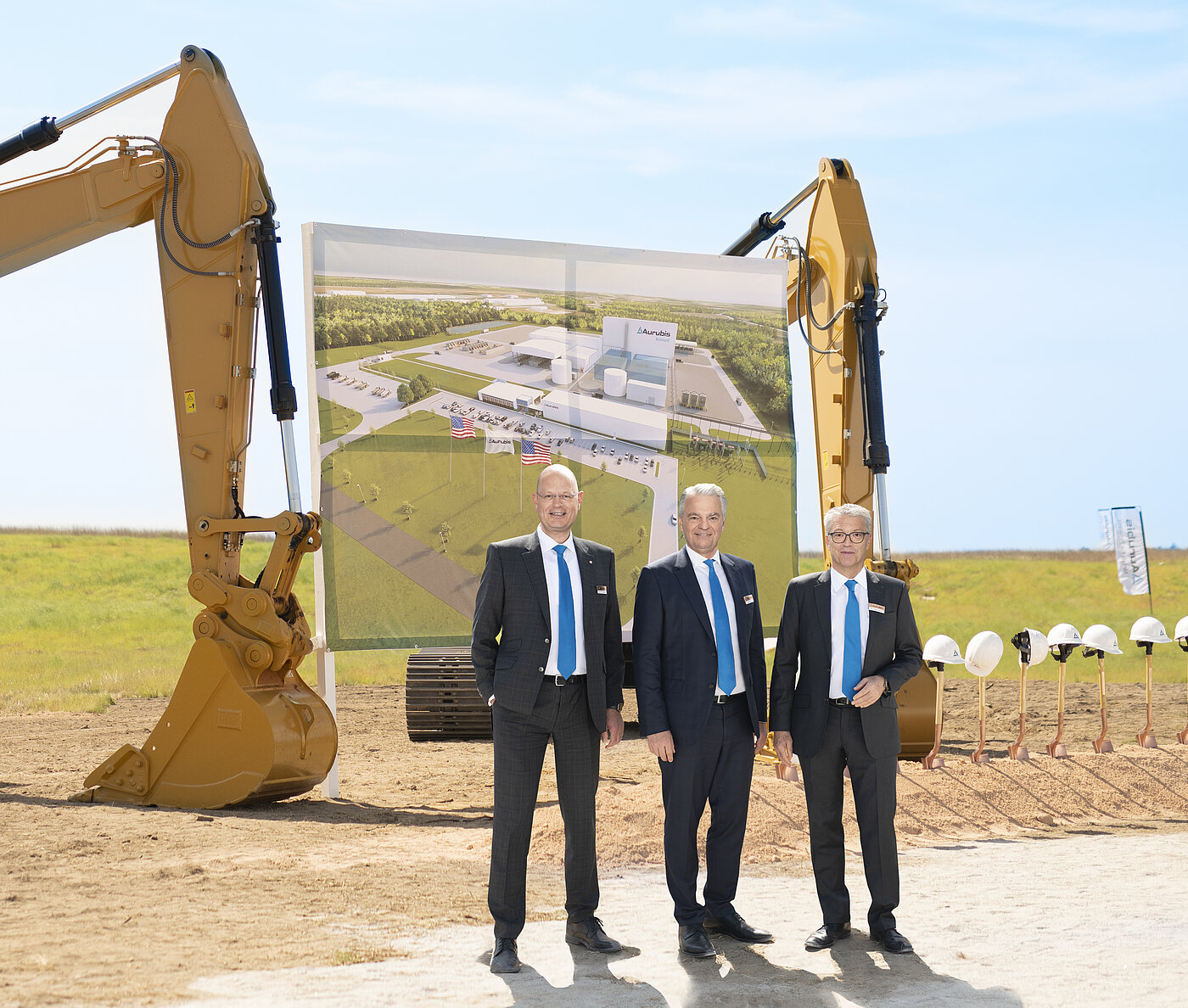 Multimetal recycling is the greatest driver of growth at Aurubis. We already play a pioneering role in Europe and intend to expand this role globally. As such, we are directly contributing to the European Green Deal, keeping strategically important minerals in local cycles, protecting valuable mineral resources, and satisfying society's demand for industrial metals. We support open markets, but also expect policymakers to create a level and fair playing field for all market participants so that recycling materials do not flow into regions with inadequate environmental, social and disposal regulations.
The groundbreaking ceremony for our new multimetal recycling smelter in the US state of Georgia was an important milestone in the past fiscal year. It makes us the first company to develop extensive processing capacities for complex recycling materials in the US market and create secure jobs there. Our recycling technology and expertise will enable us to surpass the highest US environmental standards in our production, and thus sustainably recover strategically needed metals for the circular economy.
"Implementing our strategy will enable us to increasingly contribute to the responsible and sustainable use of critical metals in the energy and mobility transitions."

— Roland Harings, CEO
We also moved forward with plans to enter the attractive battery recycling business, and in 2021/22 a pilot plant was commissioned at the Hamburg site. Here we use an innovative hydrometallurgical process to process the so-called black mass from lithium-ion batteries. With positive results: We have been able to recover significant quantities of metals such as lithium, nickel, cobalt, manganese, and graphite. Battery recycling is gaining strong significance due to growth in electric vehicles and the rising demand for lithium-ion batteries along with the raw materials required to produce them. As the most efficient and sustainable smelter network in the world, we have the metallurgical expertise necessary to be a key trailblazer for the mobility shift with our process solutions.
Our focus on nickel and copper is reflected in the strategic BOB project, the electrolyte processing plant at our Belgian site in Olen. Our innovative hydrometallurgical process, allows us to recover nickel from the bleed circulating in the anode baths in our tankhouses even more quickly and efficiently. The facility in Olen will be fully operational in fiscal year 2025/26.
Our sustainability agenda forms a key part of the Aurubis strategy. We will further reduce emissions in the Group and work harder to decarbonize the processes. Significant milestones in the past fiscal year included the commissioning of one of the world's largest plants for the reduction of diffuse emissions at our site in Hamburg, and the commissioning of the largest photovoltaic plant for internal consumption in Bulgaria at the Pirdop site. We also concluded a major supply contract for power from an offshore wind farm to supply our site in Olen. In addition, our industrial heating project will help prevent 100,000 t of CO2 emissions annually starting in the 2024/25 heating period and supply an additional 20,000 households with carbon-free industrial heat.
"We will further reduce emissions within our company and work harder to decarbonize the processes."

— Heiko Arnold, COO
In 2021, we were able to show that it is technically possible to use hydrogen instead of natural gas for copper production in the anode furnace on a large scale. In October 2022, we took the next step and launched a low-carbon ammonia test series. We are planning to replace about 20 % of the natural gas used in copper wire production with blue ammonia. This corresponds to a reduction of up to 4,000 t CO2 per facility per year. We are starting extensive testing of ammonia, the first hydrogen derivative available, for industrial use today so that we will be ready to use blue, and later green, ammonia when they become available. This is further confirmation that Aurubis is forging ahead with the transformation to low-CO2 industrial production.
Transparency is key to implementing our sustainability agenda. We recently updated the carbon footprint of our products. The result: We have reduced the footprint of copper cathodes by over 35 % in the last eight years down to 1,460 kg CO₂ per ton of copper cathode today. This puts us 50 % lower than the global average – for copper cathodes, silver, and gold. Results that confirm our chosen path. We publish the environmental impact of a total of six product groups through corresponding life-cycle assessments, and see this as an important contribution to a transparent value chain.
The Copper Mark certification of our Bulgarian site was followed by successful audits of the Hamburg and Lünen smelters in 2022. The Copper Mark is the quality seal of the global copper industry. We plan to certify our site in Olen, Belgium, in 2023.
"We have the capacity to consistently implement and accelerate our strategy, even during times of crisis."

— Rainer Verhoeven, CFO
One issue in particular dominated the second half of the fiscal year: the energy crisis. A number of energy-intensive companies were forced to reduce production and in some cases shut it down completely. There are three reasons we are confident we will be able to easily weather the winter of 2022/23.
First of all, we are prepared. Much of our production process has already been converted to electricity, making us less dependent on natural gas compared to other energy-intensive companies. We also quickly adopted a number of measures in the spring of 2022 to further expand this independence, while at the same time increasing the flexibility of our energy procurement. When these measures take full effect at the beginning of 2023, we will be able to replace up to another 40 % of our natural gas requirements in Germany with alternative energy sources. In our search for additional energy-saving potential, we increasingly leveraged the capabilities of our Digital Factory in 2022. Our experts, whose core responsibility is to further digitalize and automate production, used increased data transparency to successfully identify more energy-saving measures. At the Hamburg site, our industrial heat project also closely integrates us into the city's heat supply system, providing carbon-free heating for around 8,000 homes. This makes us a systemically relevant component of the Hanseatic city's energy supply. Second, our balance sheet is rock solid after a strong fiscal year with an equity ratio of over 50 %. This gives us room to maneuver. We have the capacity to consistently implement and accelerate our strategy, even in times of crisis. And third, with our five tankhouses and four rod plants located in several European countries, we are broadly diversified. This means that we can compensate for significant market uncertainties.
Dear ladies and gentlemen,

we were extremely successful in fiscal year 2021/22 and achieved an operating EBT of € 532 million. This result was once again 40 % higher than the already solid figure from last year. We are benefiting from a substantially higher metal result with increased metal prices, especially for industrial metals such as copper, tin, and nickel. Sales prices for sulfuric acid were also significantly higher than in the previous year for large periods of the fiscal year, resulting in significantly higher sulfuric acid revenues. Demand for copper products also increased considerably. Higher refining charges for other recycling materials translated into a strong overall result. The prolonged maintenance shutdown in Hamburg, much lower refining charges for copper scrap, and significantly higher energy costs had the opposite effect, but were more than offset by the positive earnings drivers. In view of the very good Group operating profit, the Executive Board and Supervisory Board propose a dividend of € 1.80 per share (previous year: € 1.60). This is the highest proposed dividend in the company's history.
One highlight in the past fiscal year that we on the Executive Board feel deserves particular mention here is the significant improvement in occupational safety in the Group. The relevant LTIFR indicator improved by 37 % in 2021/22 compared with the previous year. This is a tremendous success on the path to achieving our vision of zero accidents. We would like to thank all of Aurubis AG's employees for their high level of personal commitment during the past fiscal year.
Today we have a much more optimistic view of the current fiscal year 2022/23 than we had just a few months ago. This may come as something of a surprise against the backdrop of an economic slowdown, rising interest rates, and the pressure of high energy prices. But it appears that we have been able to stave off the worst-case scenarios. Our metals continue to be in demand and in short supply, and we expect demand for metals for the energy transition to increase. Consequently, we currently expect a solid operating EBT for 2022/23 of between € 400 and 500 million.
We are also optimistic about how we managed the cyberattack on our IT systems at the end of October. No significant damage was caused thanks to our excellent IT setup, secure data storage, and the professional dedication of our employees. Production continued without any cutbacks at all major sites. At the same time, administrative processes continued at times without IT system support. In parallel, IT was working to quickly make the systems and data available again. This allowed us to restore the functionality of all systems in the Group in a very short time. This is another example of the crisis resilience of Aurubis.
Dear Aurubis shareholders, our business model, with its diverse earnings drivers, will once again prove to be robust in the current fiscal year. Our strategic roadmap is straightforward: We are strengthening our core business, and growing in multimetal recycling while improving our ability to sustainably produce metals for the future. We are systemically relevant. Aurubis products are needed today more than ever – as the basis for tomorrow's future. And to support the accelerated transition to green, affordable energy and technologies and a decarbonized society.
We hope you'll join us on this path!
Roland Harings Heiko Arnold Rainer Verhoeven