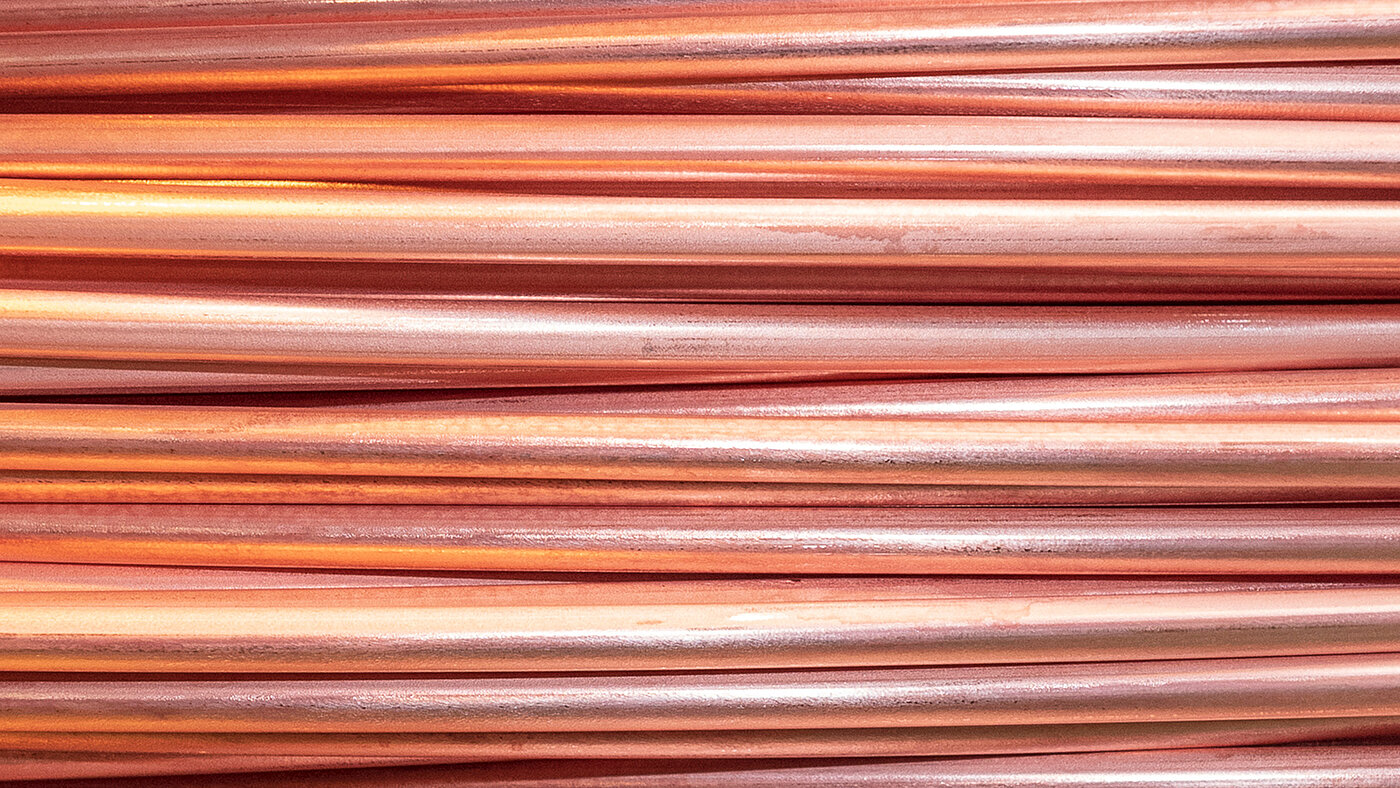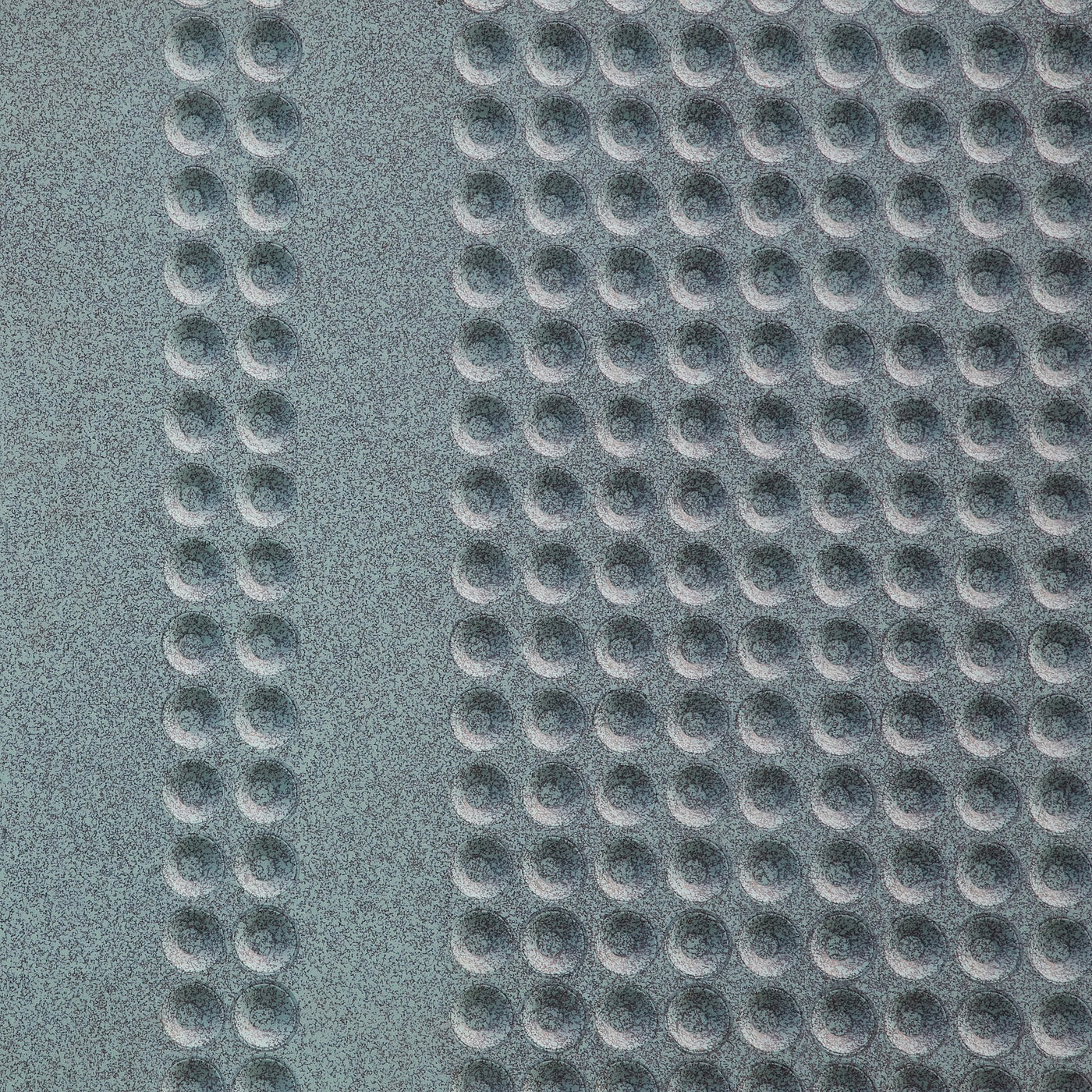 Empowering
Energy
Whether copper, nickel, zinc, or tellurium – our metals have an essential role to play in the transformation of our economy and the society we live in. Our products are used in a large number of industries and are at the heart of solutions to many different challenges, such as the energy transition. We are now the most efficient and sustainable smelter network worldwide. But Aurubis is dependent on a secure supply of energy at competitive prices. We are responding to the current energy crisis via a pragmatic, solution-oriented approach – and striking out on new paths.
Aurubis is facing a large number of challenges when it comes to ensuring a secure supply of energy for its sites, diversifying its energy mix, and identifying additional savings potential, while continuing to decarbonize and digitalize our production. Moreover, as a result of the global impact of the war in Ukraine and changing overall conditions, our two main energy sources – electricity and natural gas – have now reached price levels that may impact our competitiveness. Metals and especially copper are traded at world market prices. We are operating in a competitive international environment alongside companies with considerably lower energy costs.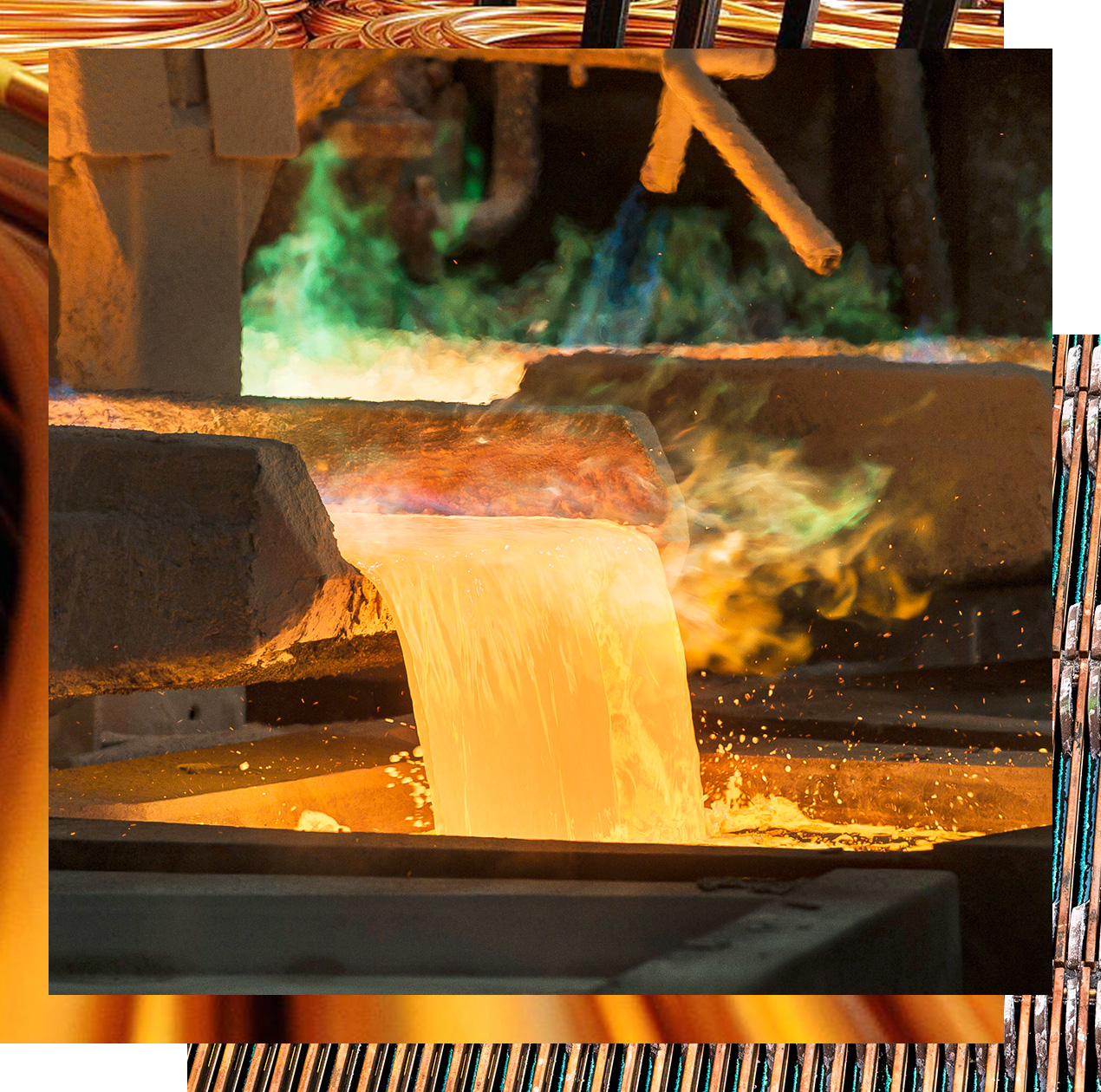 Empowering
We ensure a secure and diversified energy supply for the production of our metals of the future.
Alternative energy sources
Over the past few months, we have been hard at work exploring the use of alternative energy sources, such as oil and propane gas, at our German sites, in order to significantly reduce our natural gas consumption and thus make our production more independent of this energy source. Our site in Bulgaria is not dependent on natural gas and is instead supplied with energy in the form of oil and liquefied petroleum gas (LPG), both of which are available in sufficient quantities. Our Belgian sites in Olen and Beerse have high levels of natural gas consumption, but are well placed thanks to various energy contracts and other natural gas resources.
In Europe, the high natural gas prices are also causing electricity costs to spiral upward as a result of the market mechanism currently in place, known as "merit order". Under the merit order system, the electricity price on the exchanges is always determined by the last (and as such the most expensive) power plant to feed in. This means that electricity from renewable energy sources and coal power plants is billed at the same price that natural gas power plants receive for their electricity due to the high natural gas costs. Our German Aurubis sites are not affected by this, since they have an adequate supply of electricity based on a very long-term supply contract. The price increases here are moderate compared to the broader market trend, since this contract is not dependent on the merit order mechanism. Prices are also rising at our other European sites due to limited supply and the high level of demand. In Bulgaria, energy-intensive industry is protected by a government-guaranteed electricity price cap. We expect this provision will remain in place in 2023.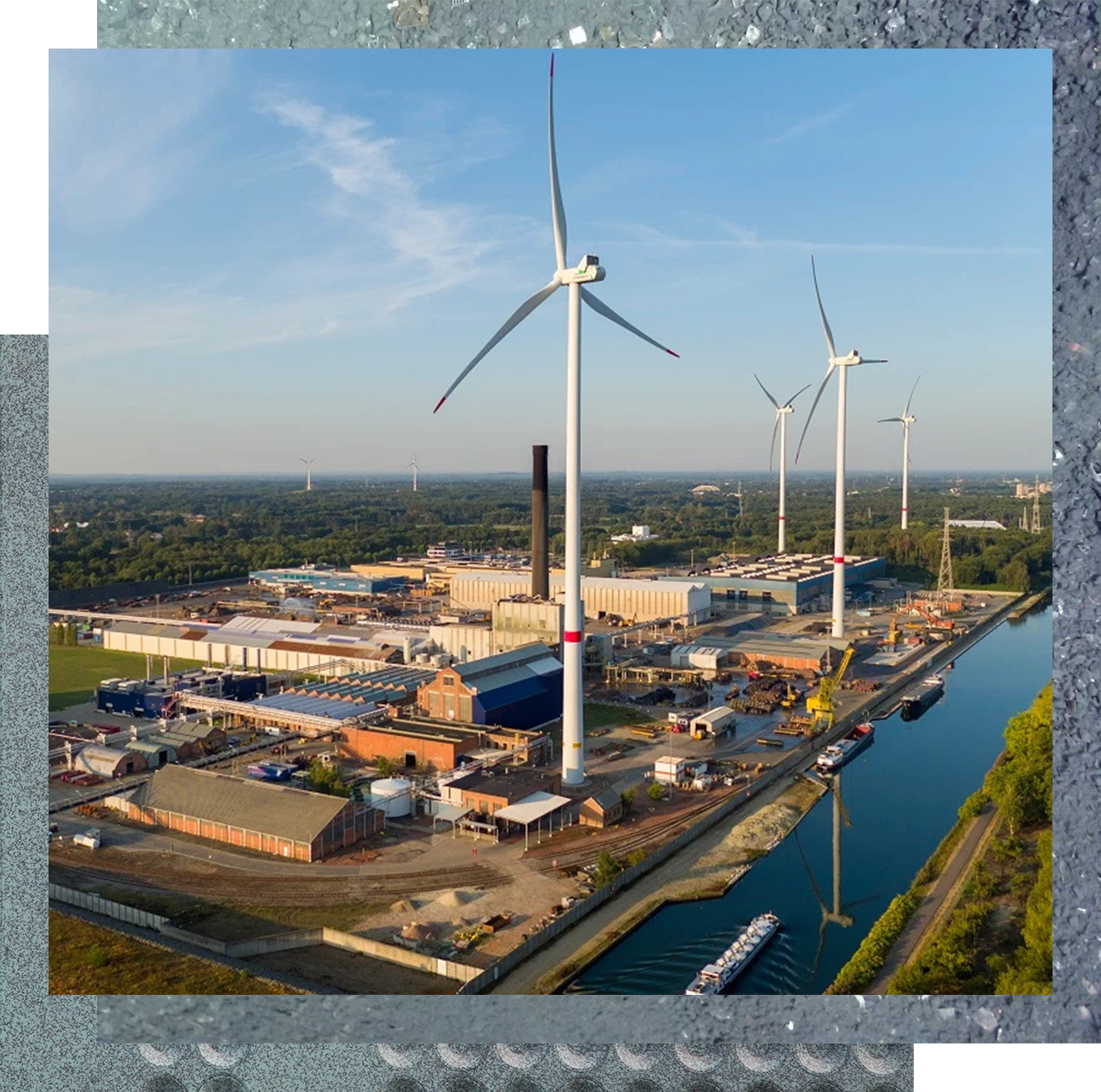 Green electricity
The energy supply at our Olen site is now greener, thanks to the use of wind energy and long-term green electricity contracts.
As an energy-intensive company, we are tackling these challenges. We are working pragmatically to find and consistently implement solutions, without losing sight of our goals and our strategy. We are confident in the flexibility and strength of our business model and value our employees' expertise highly. We are a healthy and robust company that is crisis-resistant and has already coped with quite a few challenges over the course of its long history. Nonetheless, we need to keep an eye on developments in the energy sector – and to continuously reassess the price levels at which we can continue to produce economically.
That said, we are forging ahead with our transformation process to use alternative energy sources throughout our Group – from the expansion of solar energy in Bulgaria to wind power in Olen. To reduce our indirect CO2 emissions, we are stepping up our use of green, certified electricity by optimizing our electricity portfolio in Germany and by signing long-term supply contracts (power purchase agreements), such as the green electricity supply contract we concluded with a ten-year term for our Belgian plant in Olen. From January 2023 onward, renewable energy will meet over 90 % of the plant's overall electricity needs.
Use of CO2 neutral energy sources
We aim to reduce our direct emissions by using carbon neutral energy sources, such as hydrogen and ammonia. In 2021 at our Hamburg site, we successfully tested the use of hydrogen in an anode furnace on an industrial scale for the first time – with potential savings of up to 5,000 t of CO2 per year. In 2022, Aurubis in Germany received the first shipment of blue ammonia from the United Arab Emirates (UAE). This will allow for a reduction of approx. 20 % in the amount of natural gas normally used for copper wire production – and thus savings of up to 4,000 t of CO2 per year see "Empowering Innovations" chapter.
Keeping a firm eye on the goal
Alongside these efforts, we are also adhering to our goal of further reducing our CO2 emissions in order to achieve carbon neutral production well before 2050.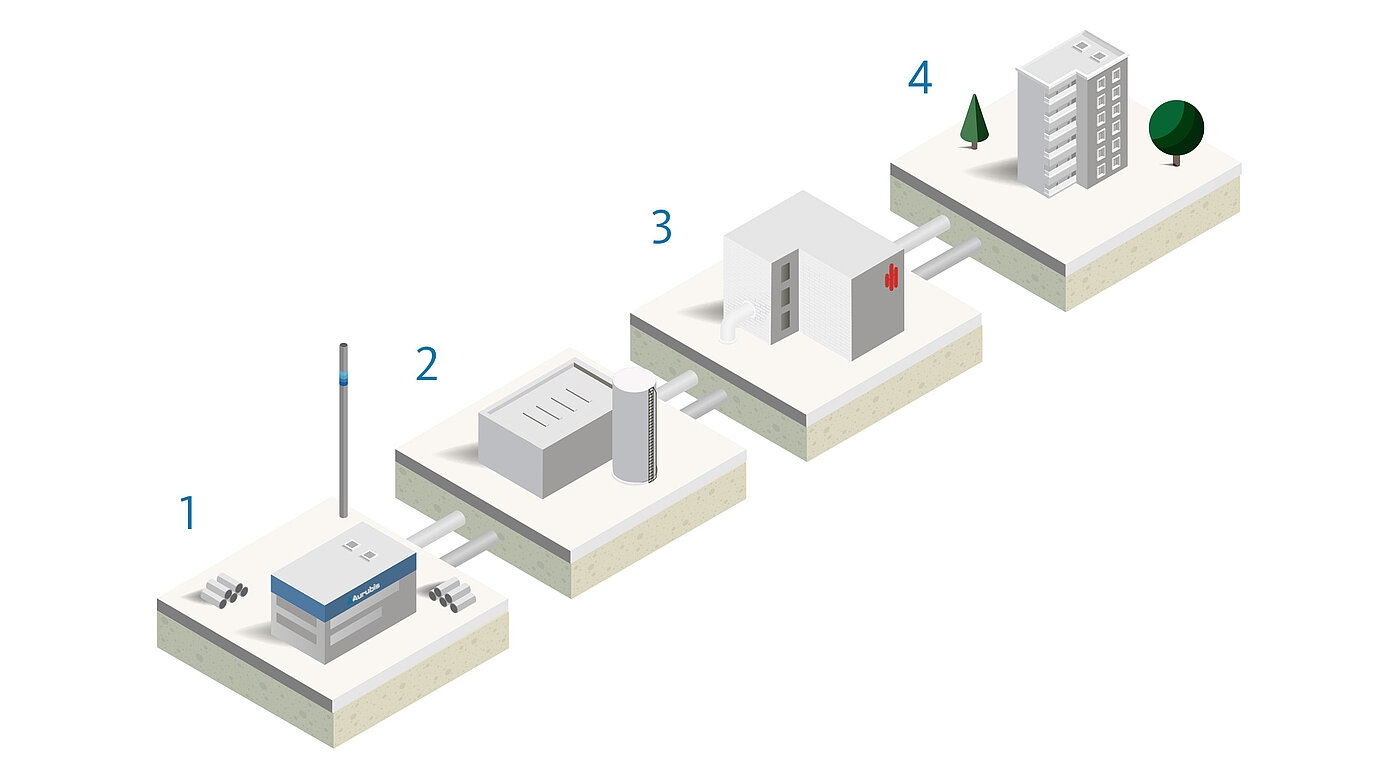 Integration of Aurubis AG industrial heat
1 Aurubis
Modification of a copper production sub-process for the use of carbon-free industrial heat (enough to heat 20,000 households)
---
2 Thermal energy storage
Innovative short-term storage to homogenize industrial heat for use in the district heating network
---
3 Spaldingstrasse
Feed-in of the industrial heat to Wärme Hamburg's city-wide district heating network
---
4 Customers
Delivery of carbon-free industrial heat, with a CO2 reduction of up to 100,000 t per year
Efficient energy use and industrial heat provision
Apart from these forward-looking strategies, we have had an energy management system in place for many years to manage our energy needs more efficiently and identify potential savings. Our facilities and processes have become increasingly efficient – only limited by what is technically feasible. And we are breaking new ground. At our Hamburg site, we are carrying out a lighthouse project involving the use of industrial heat generated by our production. Since the end of 2018, around 8,000 households in Hamburg's HafenCity district have been provided with virtually carbon-free heat. We are already hard at work on the next stage, which will supply heat to an additional 20,000 households starting in 2024/25. With this project, we have sustainably closed another energy cycle. Aurubis has thus become an industrial heat supplier. The project has attracted considerable recognition and already won a number of awards.
Through these initiatives, we are living up to our leading role as the most sustainable multimetal company in the world, and as a pioneer for innovative future energy sources in our industry.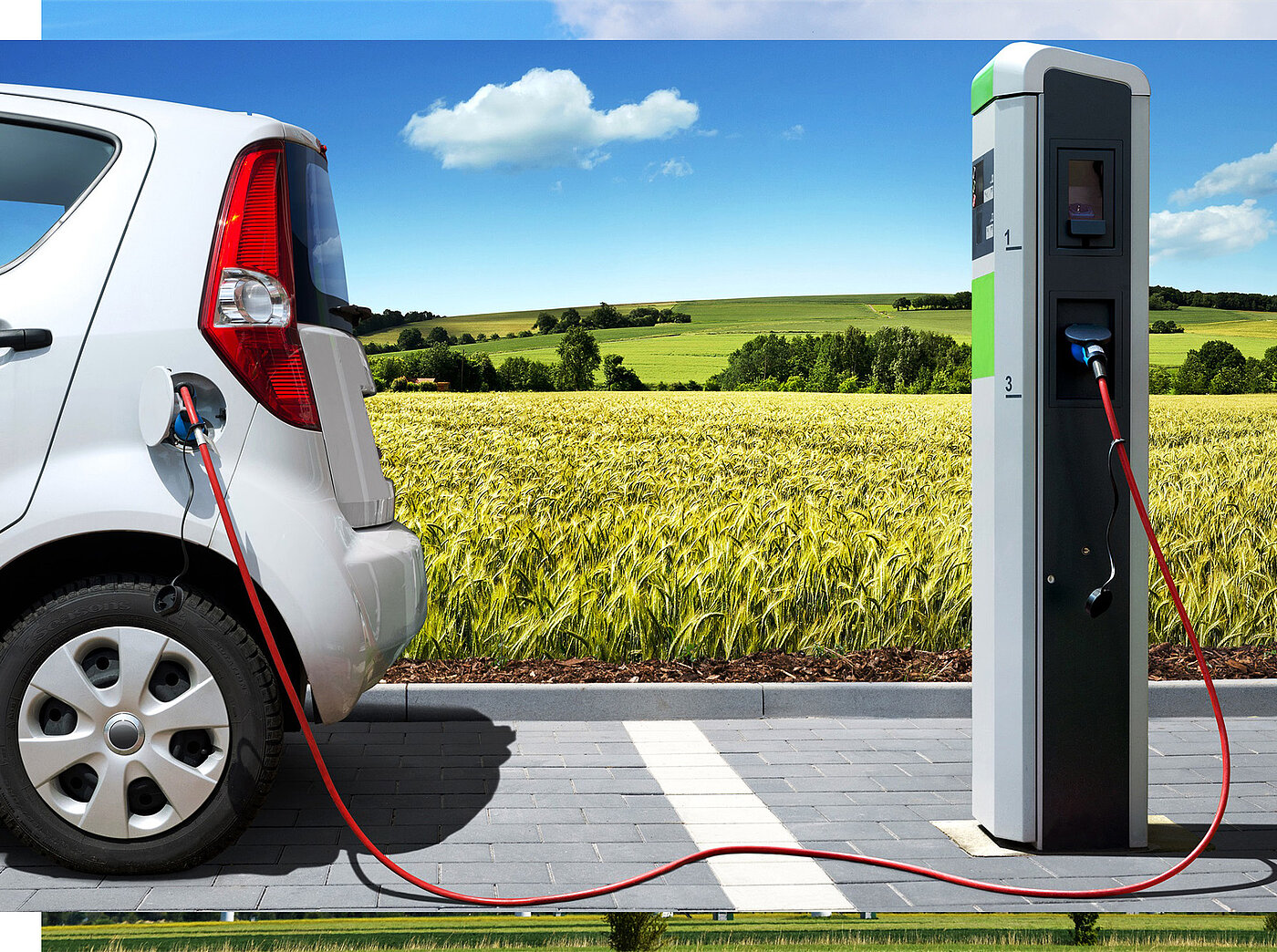 Aurubis is systemically relevant
This is particularly apparent in view of the energy transition, which we see as a catalyst for our transformation. The metals we produce are needed to generate and distribute renewable energy and for the switch to e-mobility.
Solar park
A solar park with an output of 1 MW requires 7 t of copper on average. In addition, its solar panels contain many other metals: e.g., cadmium, tellurium, silver, silicon, molybdenum, germanium, gallium, indium, and beryllium. Moreover, aluminum, zinc, manganese, and titanium are used in the frames.
Wind turbine
A 3 MW wind turbine requires around 4.7 t of copper, 3 t of aluminum and approx. 1.5 t of rare earths. Additional metals are also needed: e.g., lithium, nickel, manganese, cobalt, carbon, and vanadium for storage as well as zinc and molybdenum for corrosion protection. The amount of copper required for an offshore wind turbine increases to around 30 t due to the need to connect the turbine to the mainland.
Electromobility
For battery production alone, cobalt, lithium, nickel, and other metals are essential. Demand for copper is also set to rise as a result of the shift to e-mobility: An electric vehicle contains up to four times as much copper as a car with a combustion engine.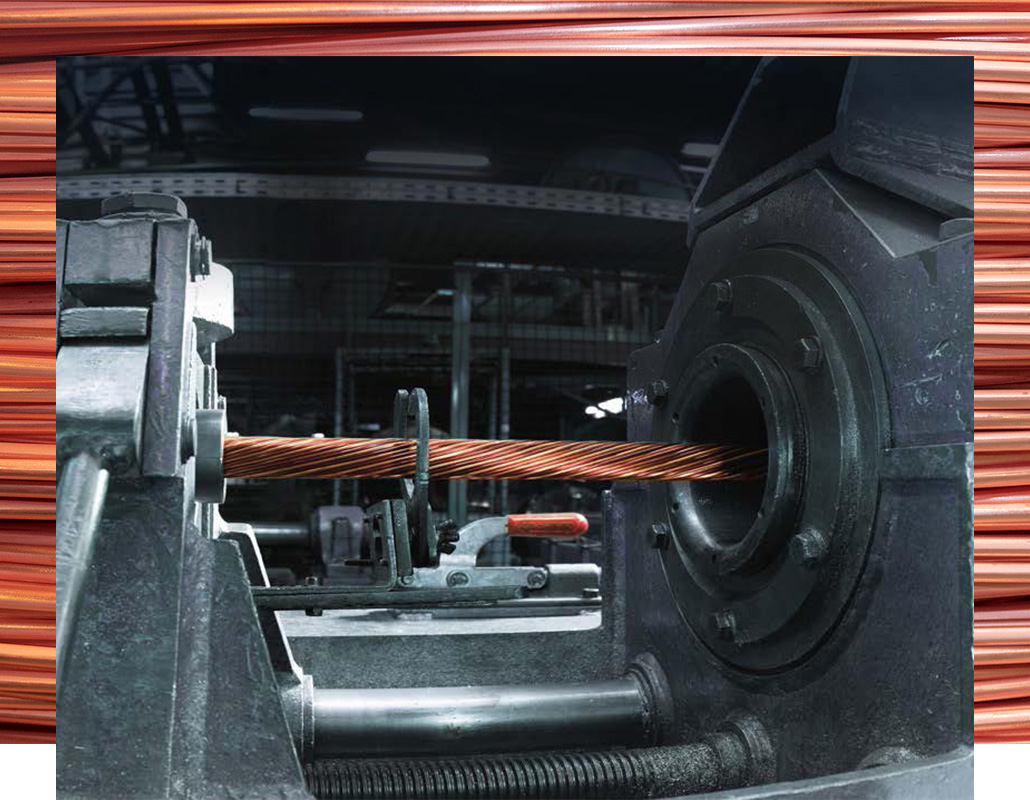 Power lines with a copper core
Green electricity is by no means always generated exactly where it is needed. A successful energy transition includes being abel to transport this power. Three major power lines are currently being built in Germany for this purpose: A-Nord, SuedLink, and SuedOstLink. These names are shorthand for copper high-voltage cables as thick as a person's leg that our customer Prysmian – the world market leader in the field of energy and telecommunications cables – is currently constructing and laying underground on behalf of three different customers. These lines will carry wind energy from the offshore parks of northern Germany to the south of the country, where private households and companies can use it in the future. These power highways are several hundred kilometers long. The longest line, SuedLink, alone runs for 580 km and is one of the largest projects of its kind worldwide. Within the scope of these three power-line projects, Prysmian is responsible for around 2,300 km of cables. This requires around 10,000 t of copper wire – and quality is key. This is why Prysmian chose Aurubis' wire rod. "The copper needs to have particularly good conductivity and must be easy to handle," project and contract manager Heiko Dirks says.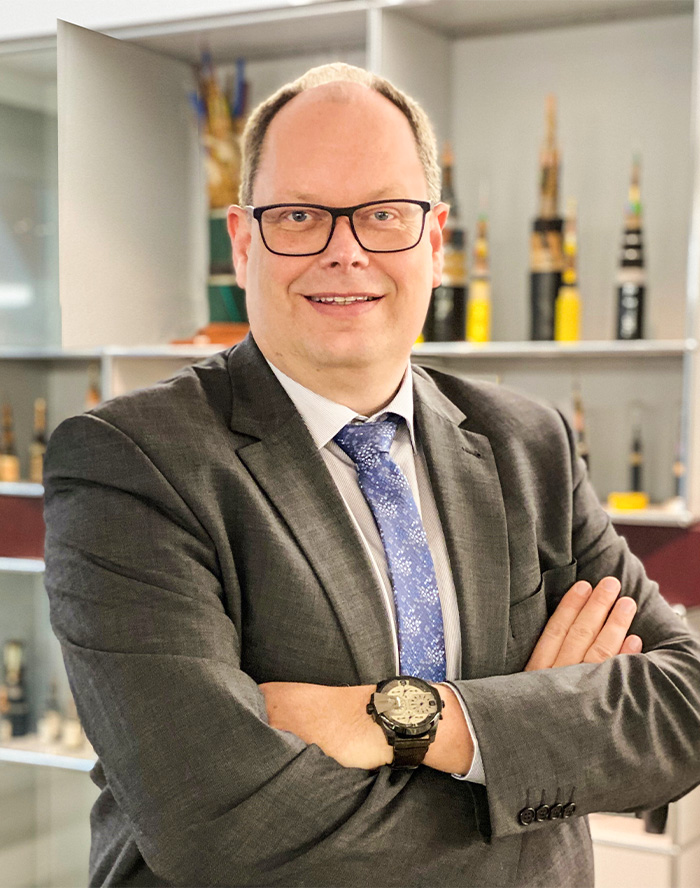 "Aurubis is one of the world's leading copper manufacturers and our key supplier. We have worked together for 25 years now and can look back on many successful projects together."

— Heiko Dirks, Prysmian project and contract manager
The underground cables consist of a copper wire core that is sheathed with special insulation – to protect against environmental impacts and ensure optimal, low-loss power transfer. Prysmian manufactures these cables in France and coils them around huge drums (which weigh approx. 80 t) for transport to Germany. Each drum carries around 2 km of cable. Prysmian also values Aurubis because it is reliable and delivers on time, ensuring seamless production. "Aurubis is one of the world's leading copper manufacturers and our key supplier. We have worked together for 25 years now and can look back on many successful projects together," Heiko Dirks says. That's why the two companies are successfully working toward the same goal: facilitating the energy transition with their products.