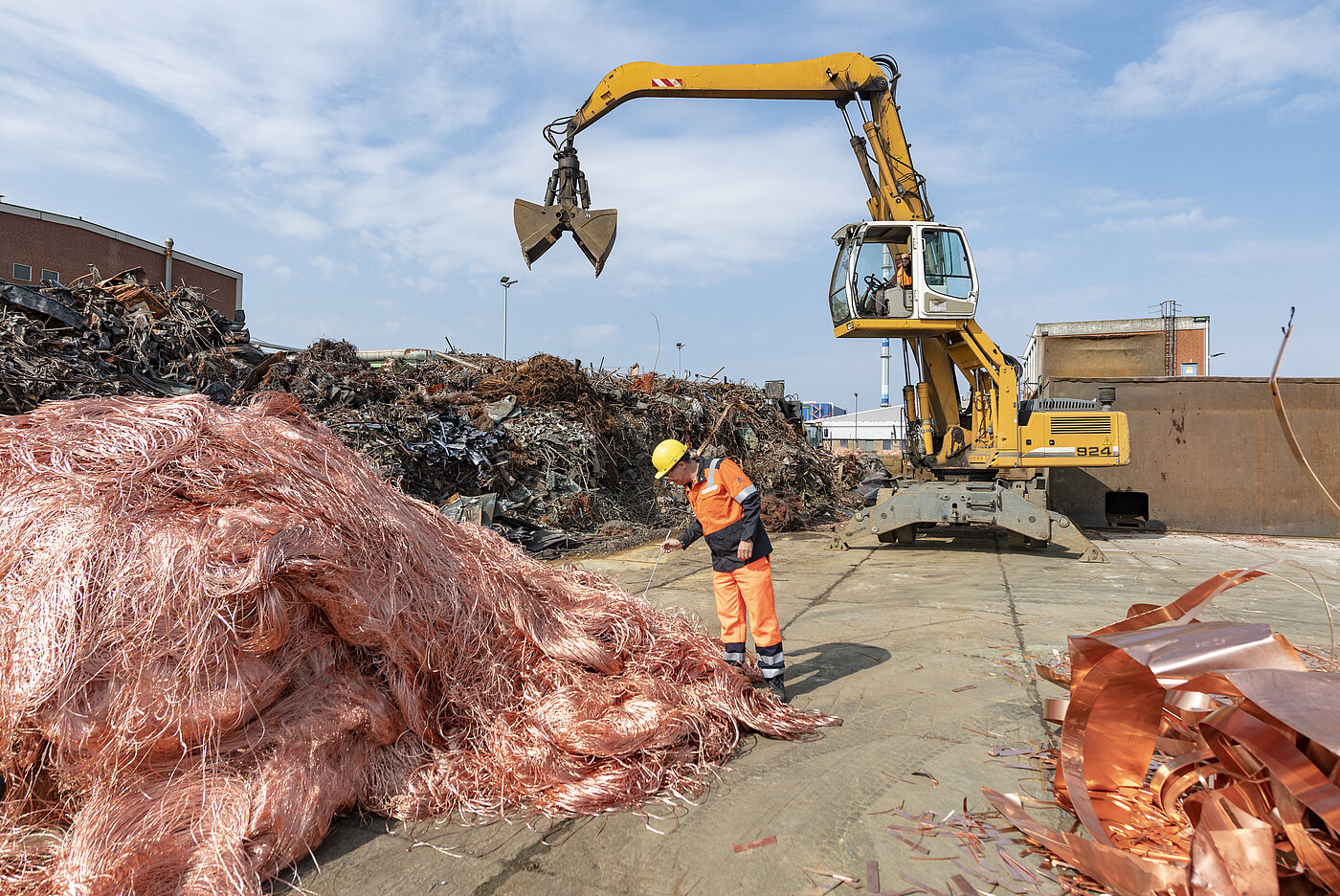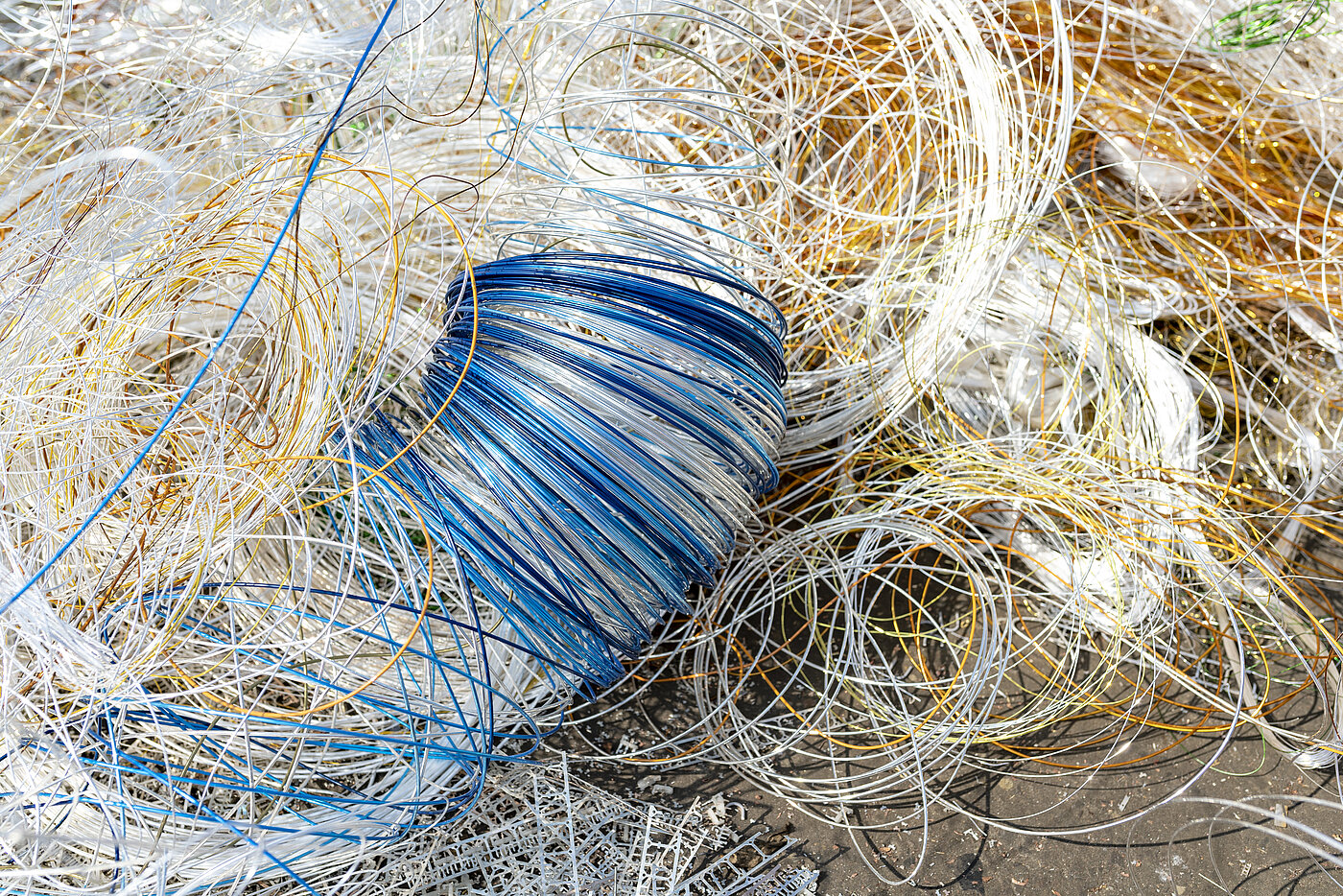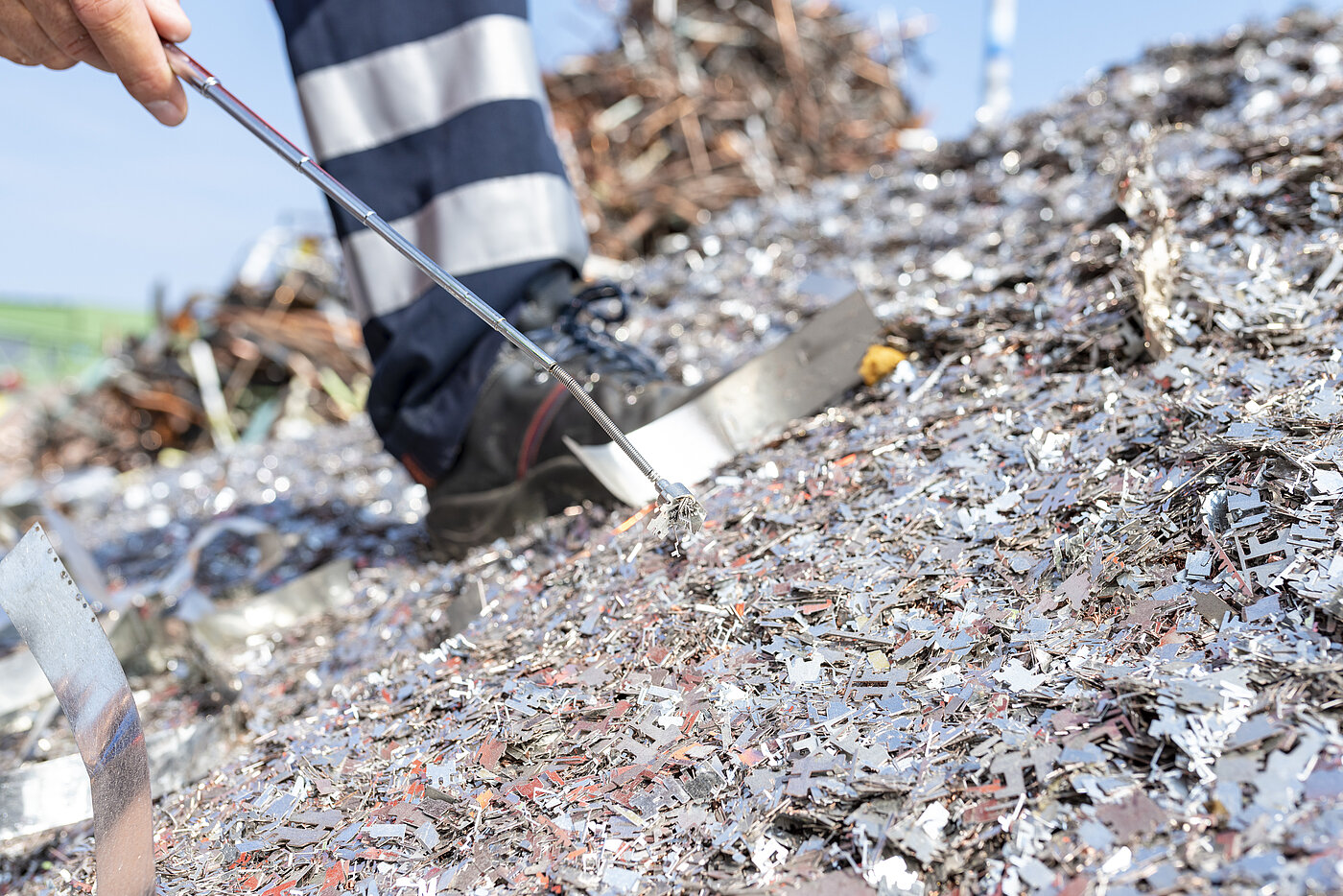 Empowering
Sustainability
Our copper production carbon footprint is already less than half the average of our competitors worldwide. This competitive edge inspires us to go further: Sustainability is the defining principle of our company strategy. Our activities are always aligned with our commitment to responsibly transform raw materials into value. Our production will be carbon neutral well before 2050. To get there, we are assuming responsibility and making targeted investments in sustainable projects, obtaining certification of our processes and supply chains and, through Tomorrow Metals, living up to our sustainability promise to our customers.
Aurubis' products play an important role in many transformation processes in today's society – from the energy transition to digitalization and e-mobility. We see ourselves as a responsible actor and as part of the solution for a more sustainable future.
We follow the company's mission of responsibly transforming raw materials into value to provide metals for an innovative and sustainable world. Our Group strategy, "Metals for Progress: Driving Sustainable Growth", will integrate our sustainability standards more throughly into all areas and expand our industry leadership in sustainability.
We aspire to approach employees, suppliers, customers, and neighbors with a sense of responsibility, whether in direct business operations or in the areas surrounding our plants. The same applies to environmental issues, as we are aware of the limits of natural resources. We aim to secure long-term company success through responsible business practices and stable growth.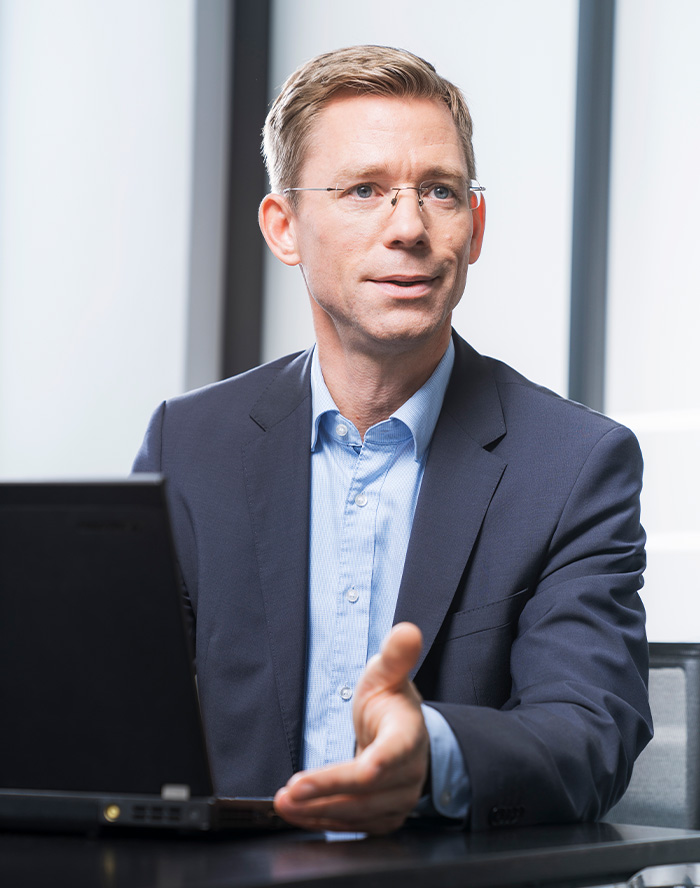 "Decarbonization, supply chain management, the circular economy and sustainability performance reporting are the key sustainability trends. We are already extremely well positioned here!"

— Christian Hein, Head of Sustainability
For Aurubis, responsible corporate governance is an integral contribution to securing the company's future. The 2030 sustainability targets have established the framework. They are an integral component of the Aurubis corporate strategy and are divided into three focus areas: people, environment, and economy.
The 2030 sustainability targets determine the main areas of activity, targets, and action plans for the coming years. Such as in the "energy and climate" action area, where our ambition is to be carbon-neutral well before 2050. In the "recycling solutions" action area, we intend to offer the entire value chain solutions for the circular economy.
Our roadmap is in place: We will continue solidifying our position as the most efficient and sustainable multimetal producer worldwide.
Aurubis products have a reduced carbon footprint
Sustainability requires transparency. We take this responsibility seriously and analyze the potential environmental impacts and the energy balance of products over their entire lifetimes through life cycle assessments (LCA). As well as updating the life cycle assessment for copper cathodes, the first assessments were completed for copper wire rod, copper shapes, and tin, as well as gold and silver.
The holistic LCA approach covers all of the steps in the manufacture of these products – from the upstream processes for the extraction of the raw materials to the production of the pure metals. The assessment encompasses the impacts of all activities in the treatment of raw materials, as well as direct emissions, transport, energy consumption, and the auxiliary materials used. The study was carried out in accordance with ISO standards 14.040 and 14.044 for life cycle assessments.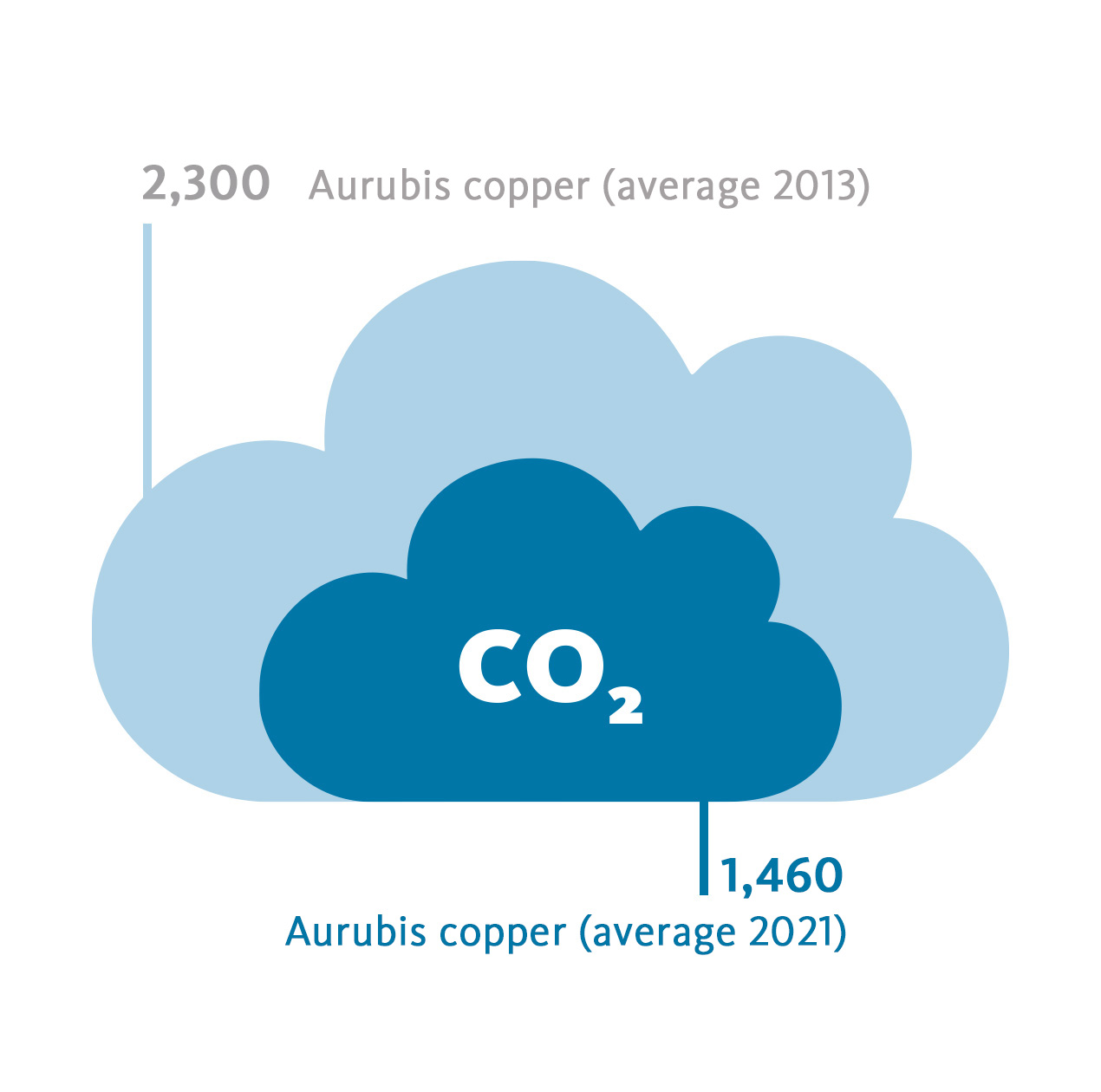 Carbon footprint of copper cathodes
2,300
Aurubis copper (average 2013)
1,460
Aurubis copper (average 2021)
Calculated in accordance with ISO norms 14040 and 14044 for life cycle analysis.
The results confirm the effectiveness of our commitment to sustainable metal production. Aurubis is on track to achieve the goals it set for itself. Over the past eight years, we have reduced the carbon footprint for copper cathodes by more than 35 %. It is now less than 50 % of the global average carbon footprint for copper cathodes. We have achieved the same results for gold and silver, while the figure for tin is an impressive 75 % below the global average. Reference figures are not yet available for wire rod or shapes. Here we are setting international standards through our achievements.
All our current factsheets can be found here.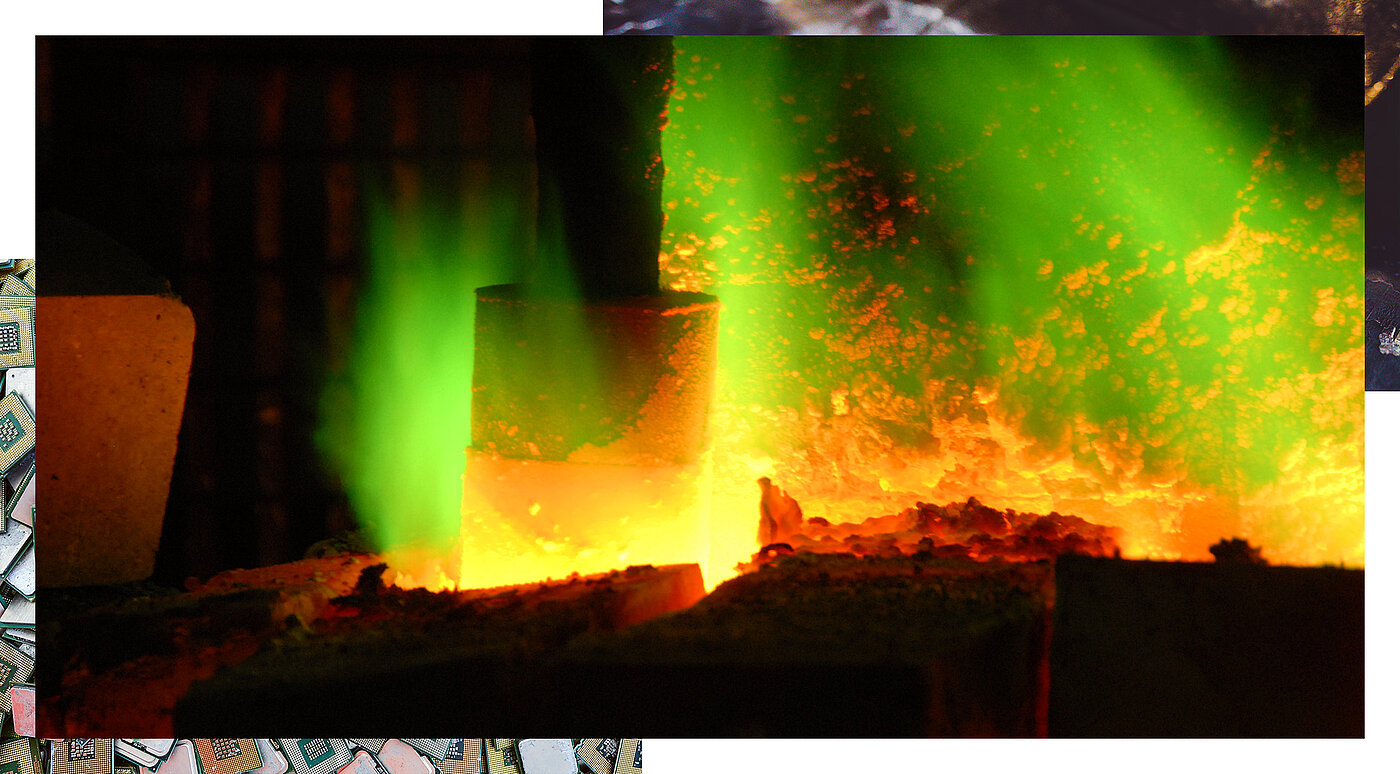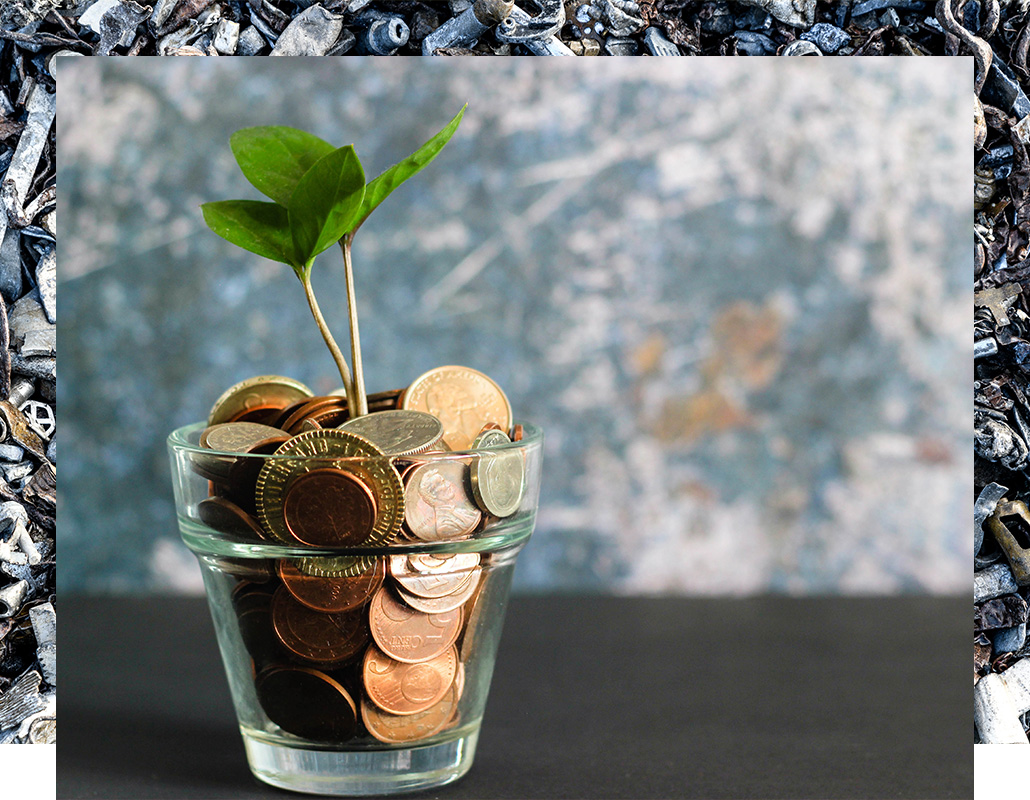 Aurubis links financing with sustainability
In early February 2022, we took out a € 350 million ESG-linked syndicated credit line over a period of five years. ESG stands for environmental and social governance. The loan conditions are tied to the company's EcoVadis rating, so commitment to sustainability is having a direct impact on the costs of Group financing. In June 2020, Aurubis very successfully placed a Schuldschein loan with a volume of € 400 million with a sustainability component. Our latest financing package again emphasizes that our commitment to sustainability even extends as far as our company financing structures.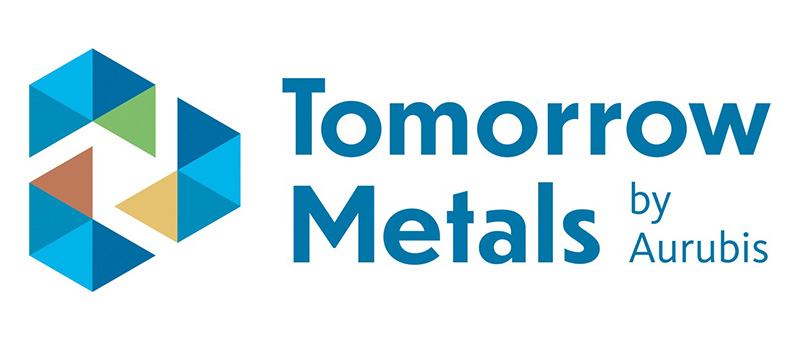 Tomorrow Metals: a sustainability promise to our customers
Our metals lead the way in the area of sustainability. Our Tomorrow Metals label communicates this message clearly. The label represents our promise to our customers that, in everything we do, we deliver more value with less environmental footprint, while complying with the highest standards in energy efficiency and environmental protection. Tomorrow Metals is based on the four pillars of environmental protection, carbon footprint, recycling, and responsibility.
Our current non-financial report 2021/22 is available here.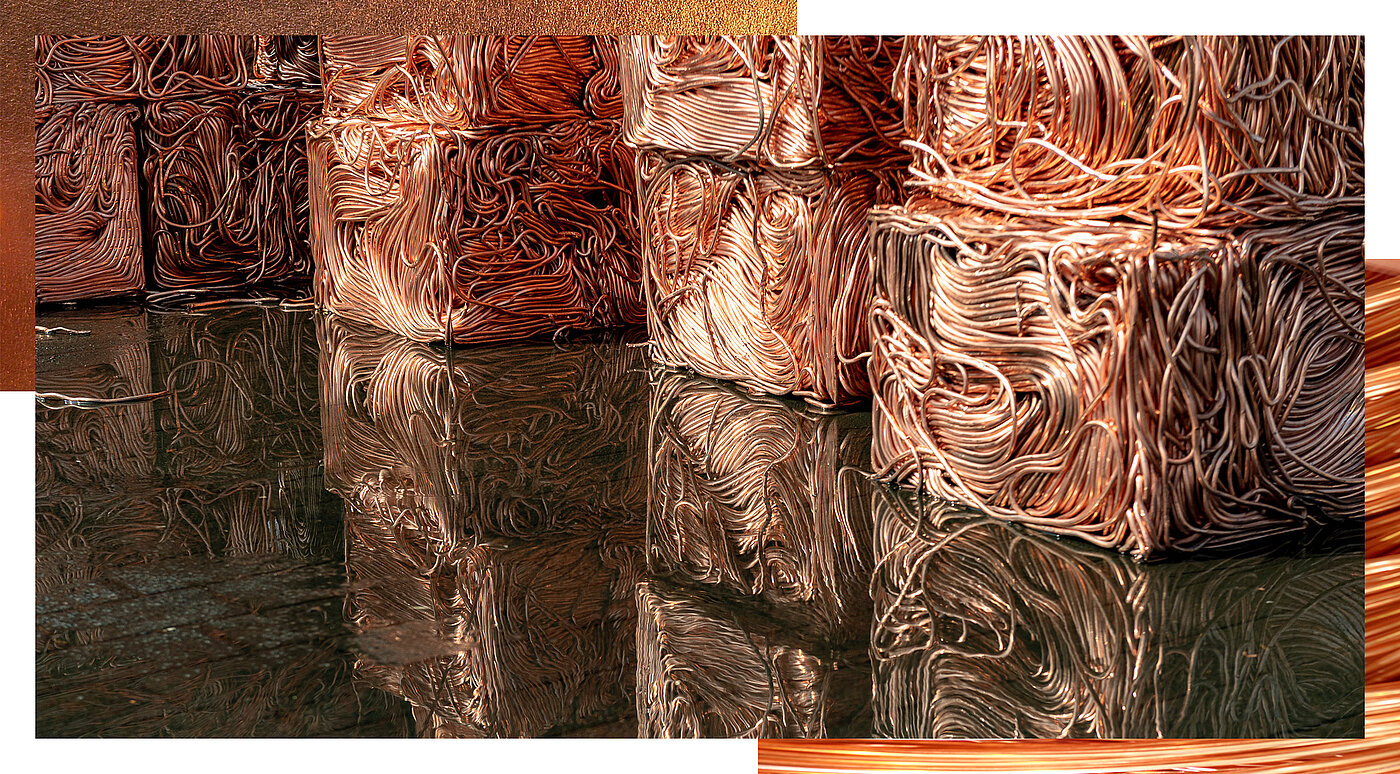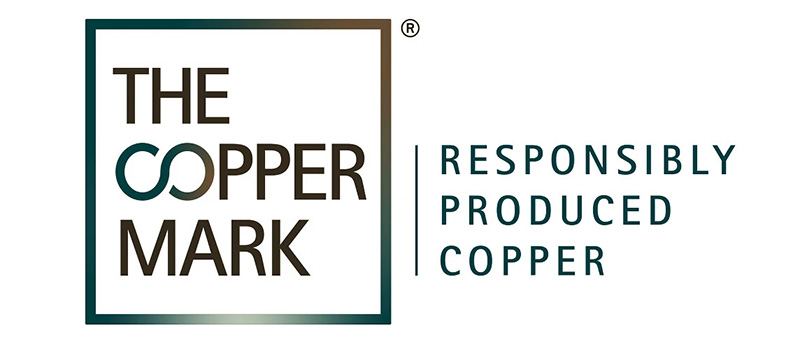 A fourth site is now aiming for Copper Mark certification
After Aurubis Bulgaria, this year our plants in Hamburg and Lünen were also granted the Copper Mark – the internationally recognized seal of quality for sustainability in the copper industry. A fourth plant in our smelter network, Aurubis Olen, is now ready to undergo the certification process. This quality seal is confirmation of our strategy of continuing to expand our position as an industry leader in sustainability.
As part of the certification process, the Copper Mark system reviews 32 internationally recognized sustainability criteria, such as protecting the environment and climate and energy efficiency; occupational health and safety; and compliance and human rights. Due diligence is an important new criterion, i.e., the duty of care to ensure compliance with human rights in the supply chain. To receive this quality seal, companies are now required to meet the joint due diligence standard for copper, nickel, zinc, and lead. All three Aurubis smelters successfully passed the review process ensuring compliance with the standard and thus also fulfilling the new London Metal Exchange (LME) responsible metal sourcing standards.
More information on sustainability at Aurubis can be found here.
Aurubis named a finalist for the German sustainability award
In 2022, Europe's largest prize for ecological and social engagement was awarded for the 15th time. Aurubis was one of twelve finalists in the "Resources" category – high recognition of our achievements in sustainability. A total of 71 companies were nominated in five categories for the prize. On December 2, 2022, the winners were announced at a gala event in Düsseldorf attended by Germany's chancellor Olaf Scholz.
More information can be found here.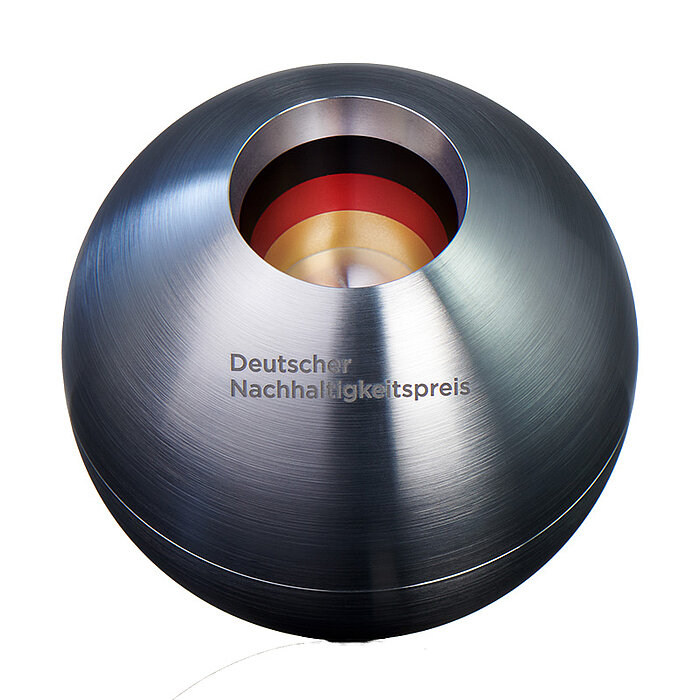 Greater sustainability requires an active, partnership-based approach
We intensively interact and communicate with partners in the business sector, and in the fields of politics, science, and society at large. Our international, five-person External Affairs team is primarily tasked with maintaining dialogue with policymakers and administrative bodies, thus influencing how legal regulations impact our complex business model. Accordingly, our colleagues in Brussels and Berlin stay in touch with members of parliament, ministry officials, undersecretaries, ministers, and commissioners at national, European, and international levels. They also work closely with associations that draw up joint positions for our industry, such as political proposals. Core issues include energy and the climate, recycling, the supply of raw materials, and sustainability. To this end, they are in close contact with our sites as well as with the relevant departments.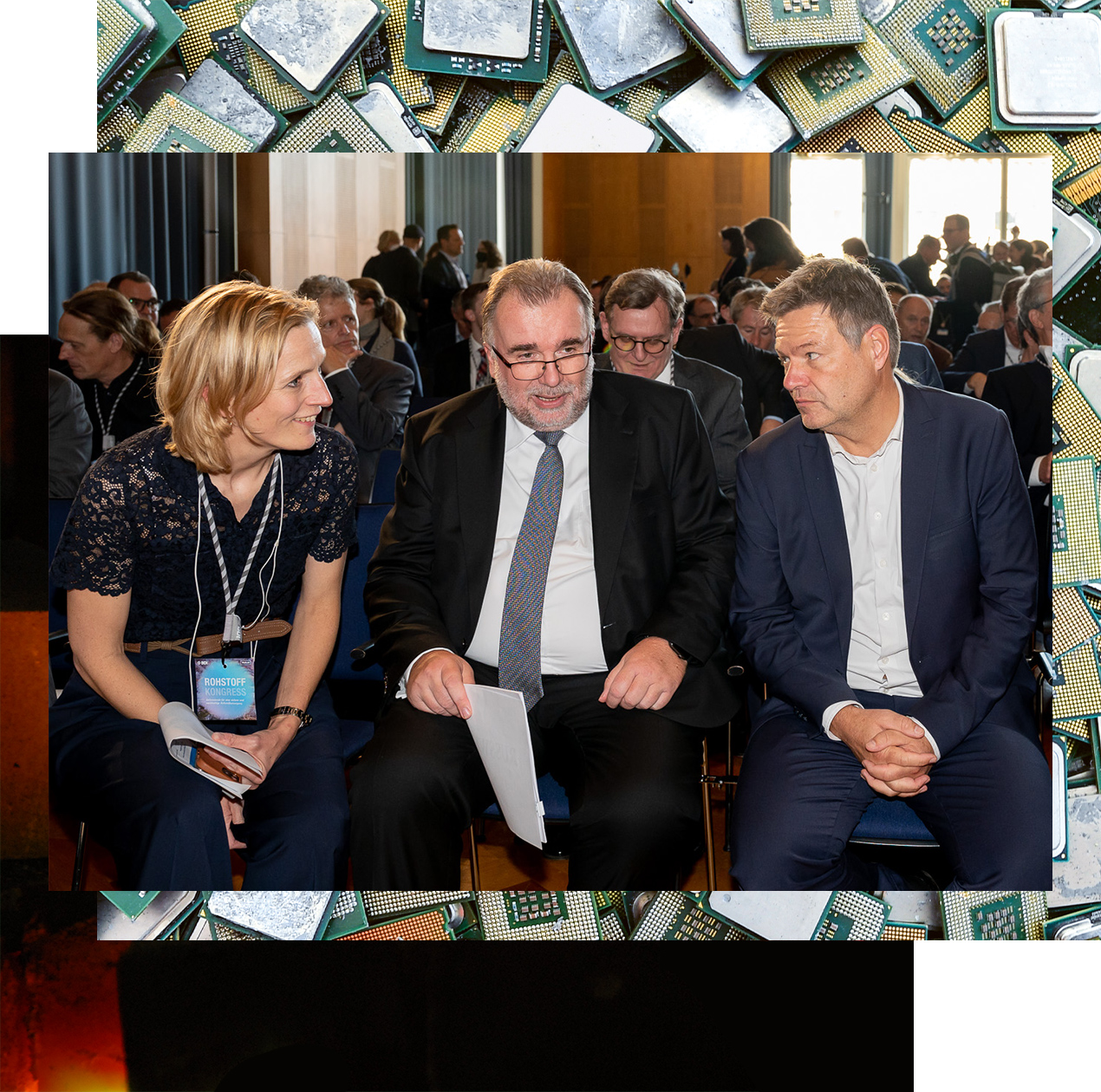 Marie-Christine von Hahn at the 7th BDI Raw Materials Congress in conversation with Germany's economy minister Dr. Robert Habeck and BDI president Prof. Siegfried Russwurm.
Effective, practical solutions require a dialogue that involves all stakeholders. Just two examples:
Raw materials strategy: Together with the German Chemical Industry Association (VCI) and the Federal Association of German Industry (BDI), we successfully – in particular through our work on the BDI's Raw Materials committee – ensured that the German government's current raw materials strategy includes the three pillars of an effective raw materials policy: raw material imports, domestic raw materials, and recycling.
"The shape legislation takes will have a decisive influence on whether we can continue to drive the great process transformation of our time through our metals in the future."

— Marie-Christine von Hahn, Vice President Corporate External Affairs
Raw materials markets: In regular meetings with parliamentarians, government representatives, and their teams in the EU and the member states, we raise awareness of the huge quantities of metallic raw materials that will be required for a successful transformation, and for the fact that these must be produced by European smelters to ensure the lowest possible level of CO2 in production.