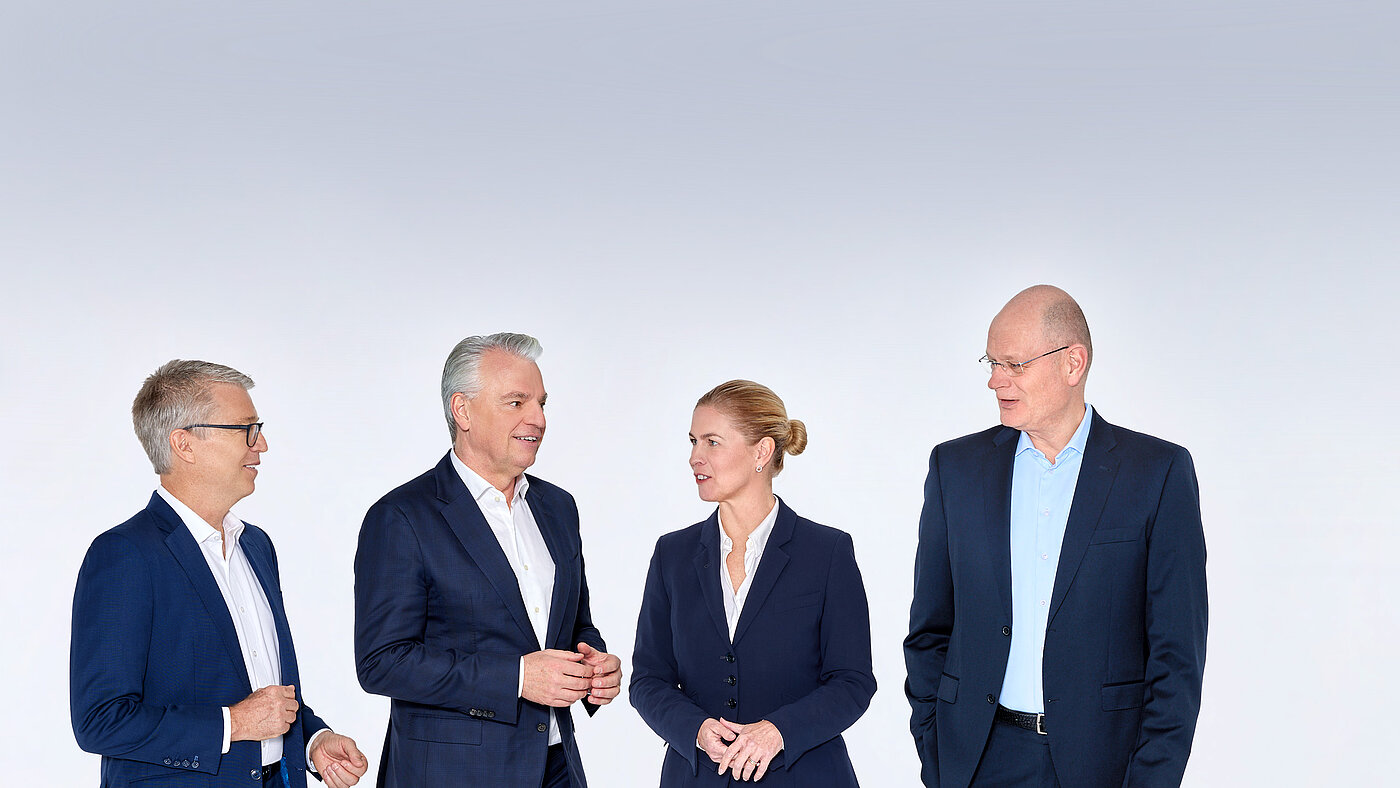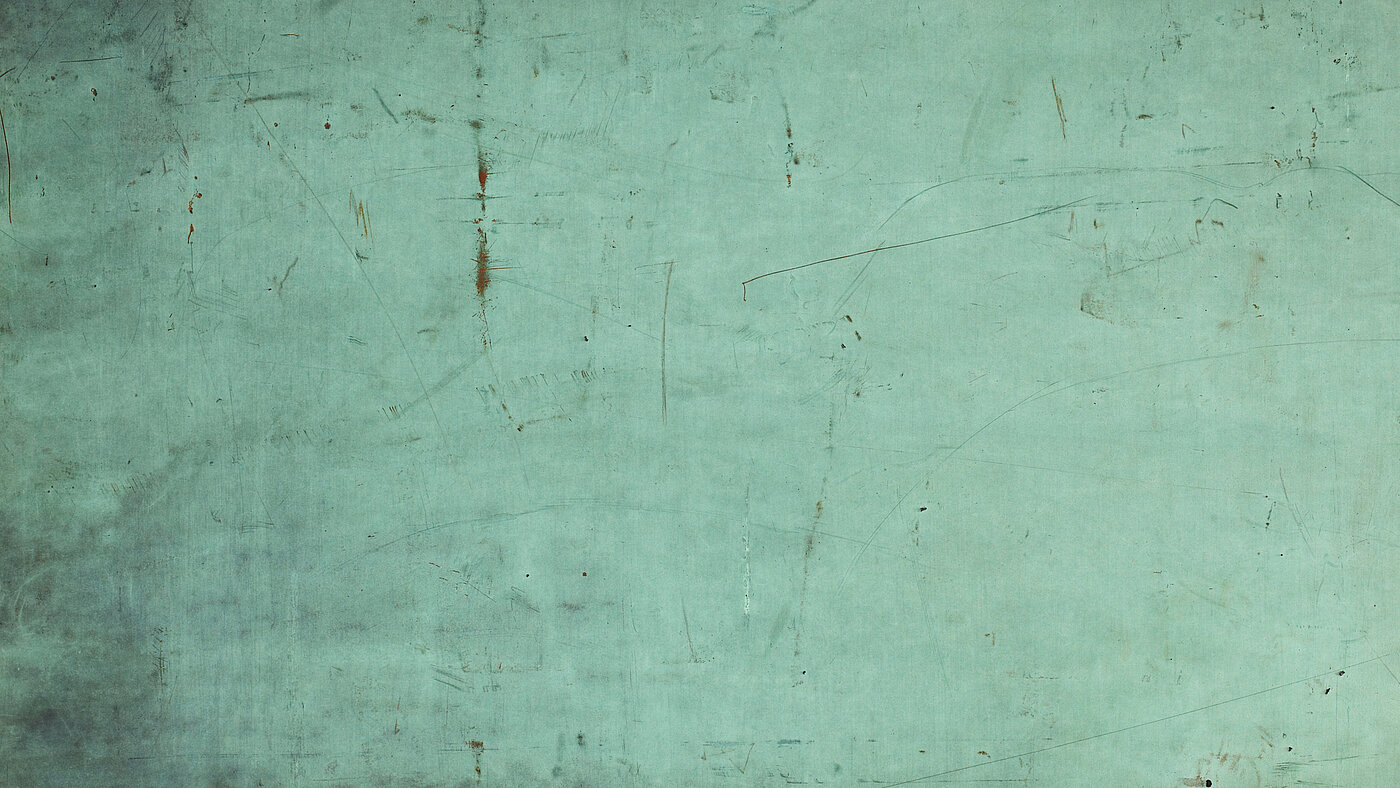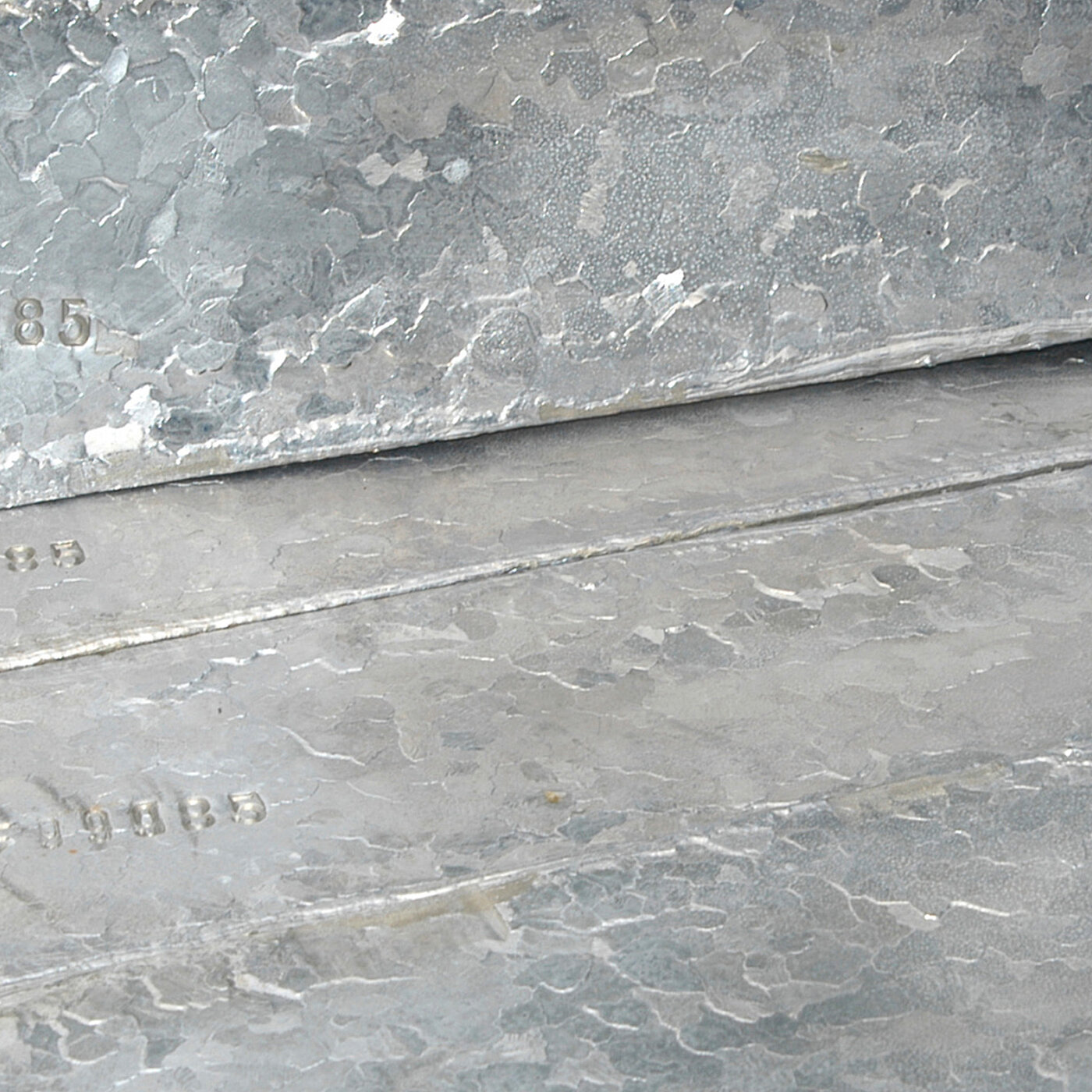 Interview with
the Executive Board
Aurubis has a key role to play
Empowering Tomorrow. Executive Board Chairman Roland Harings, Chief Financial Officer Rainer Verhoeven, Chief Operations Officer Heiko Arnold, and Inge Hofkens, Chief Operations Officer Multimetal Recycling as of January 2023, jointly discuss how Aurubis is helping shape the future, the roadmap for this process, and why the multimetal company stays strong even in times of crisis.
Mr. Harings, Aurubis has had most successful year in the company's history. What role do you see for Aurubis in the future?
Roland Harings The past fiscal year was a highly successful one for Aurubis in every sense and highlights the importance of our company for the future. After all, without metals there can be no energy and mobility transition, no digitalization, and no innovations. Aurubis has a key role to play in supplying metal as a raw material for the industries of the future. An offshore wind turbine, for instance, requires around 30 t of copper, and batteries for electric vehicles contain other important industrial metals we produce, like nickel. This is what we mean with "Metals for Progress".
This future is currently being overshadowed by an energy crisis due to the war in Ukraine. What does that mean for Aurubis?
Roland Harings The offensive has resulted in a significant shift in global energy policy. Russia is now weaponizing energy. As an energy-intensive company, we are particularly affected by these developments: Natural gas and electricity prices have reached unprecedented levels. We are therefore continuing to diversify our energy supply, while also cutting our fossil fuel use even further where we can. Because we responded quite early, I am now significantly more optimistic about the future than I was back in the spring of 2022. Furthermore, I even see an opportunity in this crisis.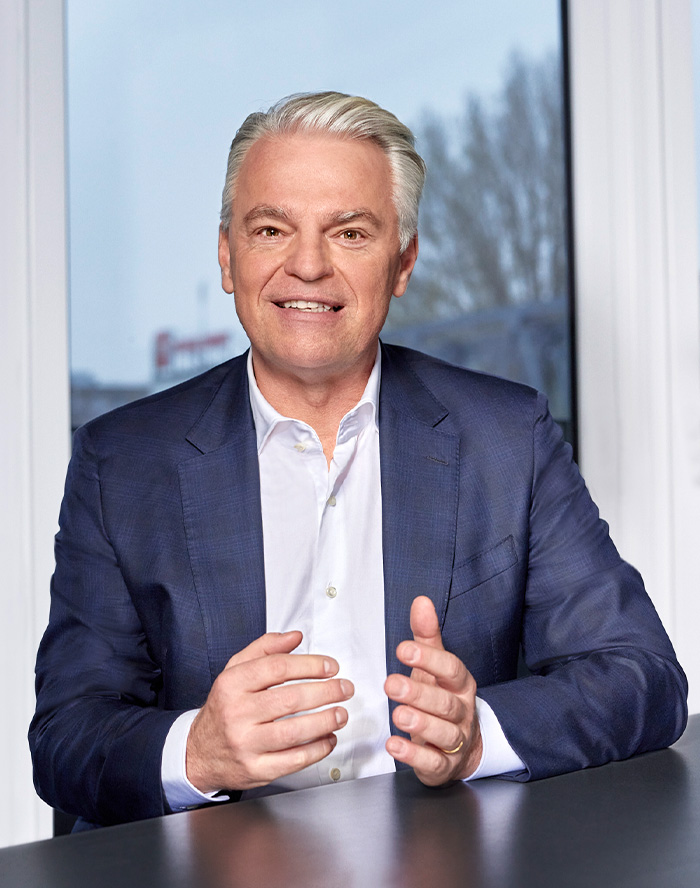 "Aurubis has a key role to play in supplying metal as a raw material for the industries of the future."

— Roland Harings, CEO
Where do you see an opportunity?
Roland Harings We have the opportunity to hugely speed up the rollout of green and low-carbon energy production and to develop new supply chains for blue and green hydrogen derivatives in particular, like ammonia, sourced from the world's energy-rich regions. This is also a major opportunity for policymakers to establish pragmatic and science-based competitive conditions for industry to accelerate decarbonization. Aurubis is playing a pioneering role here. We have successfully demonstrated that hydrogen (read more) can be directly used in copper production. We are now taking the next step and testing low-carbon ammonia as an energy source. We will continue our hard work here and are not going to wait around for policymakers or funding programs before moving forward in these areas. Policymakers need to act too though: The secure supply of raw materials and the availability of affordable energy have to be top priorities. In Europe, the first few particularly energy-intensive companies have already been forced to limit or even shut down production. This is causing additional supply chain disruptions. I don't anticipate the risk of a cutback in production at Aurubis. Our energy supply is diversified and secure for the foreseeable future.
In October, Aurubis received the first delivery of blue ammonia from the United Arab Emirates, which was not produced using renewable energy. This has prompted criticism from environmental groups. Do you understand where they are coming from?
Roland Harings Not really. The key is to get started immediately and develop expertise rather than waiting around for the perfect solution. Our carbon footprint from the production of copper cathodes is already half the global average for our industry. Our production will be carbon-neutral well before 2050. So we will certainly be using green hydrogen or green ammonia as a substitute for natural gas in the future. Currently, though, neither is available in sufficient quantities. Nonetheless, we are already testing alternative energy sources to replace natural gas in production on an industrial scale. We need some lead time for a technical feasibility review. We'll use this headstart to ensure that we are ready to go as soon as sufficient quantities of green hydrogen derivatives become available in the future. And with our test series, we are setting an example for the basic materials industry.
You revised the Aurubis strategy a year ago. Do you still stand by the results?
Roland Harings Yes, now more than ever! All the decisions we are making today align with our long-term strategic goals. We are continuing to grow, while safeguarding and expanding our core business – and adhering to our high sustainability standards in everything we do. Based on extensive market analyses, we have identified the right projects here and have a wonderful and highly qualified workforce that is driving our company forward with an unbelievable level of dedication and motivation. We have also expanded our Executive Board. Starting in January 2023, Inge Hofkens will take charge of our Multimetal Recycling business segment as a fourth member of the Executive Board. She is an excellent choice for us in an important market of the future set for growth.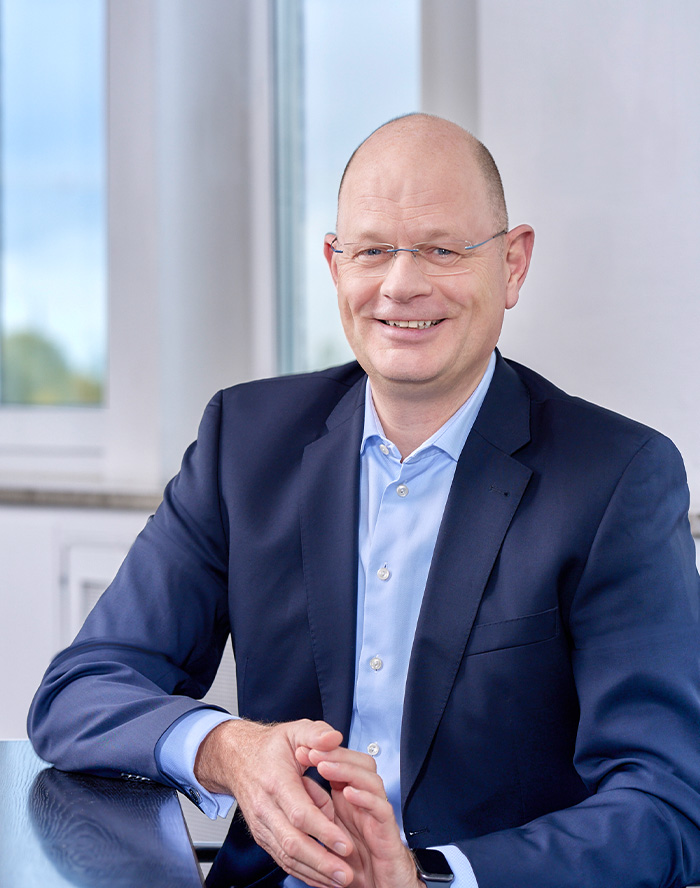 "We showed how well we work together to deal with exceptional situations, such as the coronavirus pandemic, the impact of the war in Ukraine on our energy supply, and the cyberattack we suffered."

— Rainer Verhoeven, CFO
Mr. Verhoeven, as Chief Financial Officer how do you view the past fiscal year?
Rainer Verhoeven 2022 was a very successful year for us, despite various external factors. We raised our forecast on two occasions and also met them for the year as a whole. We showed how well we work together to deal with exceptional situations, such as the coronavirus pandemic, the impact of the war in Ukraine on our business, and the cyberattack on our IT systems in late October. Despite the cyberattack, we were able to maintain production without any cutbacks at almost all the Group sites. We were able to rapidly isolate the affected areas and gradually restore our systems and databases in order of priority. We would like to thank our employees for their outstanding work in reestablishing a stable work environment in a very short period of time.
Despite these challenges, Aurubis achieved an outstanding result. What do you attribute this to?
Rainer Verhoeven With an operating EBT of € 532 million in fiscal year 2021/22, we did in fact achieve the best annual result in Aurubis' history. For much of the year, of course, we benefited from very strong market conditions with high metals prices. At the same time, we produced an increased volume of metal, thus further improving our metal result, our Group's most important outcome measure. Very high demand for our copper products and for sulfuric acid also had a positive effect. The very good metal result more than offset the significantly higher energy prices over the year as a whole. Our production sites also reported solid operating performance.
The best-ever annual result on the one hand – warnings of rising energy costs on the other. How does that fit together?
Rainer Verhoeven Higher energy costs will certainly impact our result in the coming year. We need to take the right steps now to ensure that our business continues to be a successful model in the future. We are operating in a competitive international environment and, in Germany especially, facing conditions that don't apply in other countries. Energy costs, for example, are considerably lower in the US than in Europe – not just for us, by the way, but for our competitors as well.
What is your view of Aurubis' future?
Rainer Verhoeven Aurubis is a company with an excellent outlook for the future. Our business model is extremely robust and crisis resistant. We are free of debt and can fund future projects predominantly through operating cash flow. We are confident about the coming fiscal year as well and expect to generate operating earnings before taxes (EBT) of between € 400 and 500 million. Thanks to the consistently positive market situation and high level of demand for metals and our copper products, we have largely been able to pass the higher costs on to our customers. For calendar year 2023, we increased Aurubis' copper premium from $ 123/t to $ 228/t, which amounts to 85 %.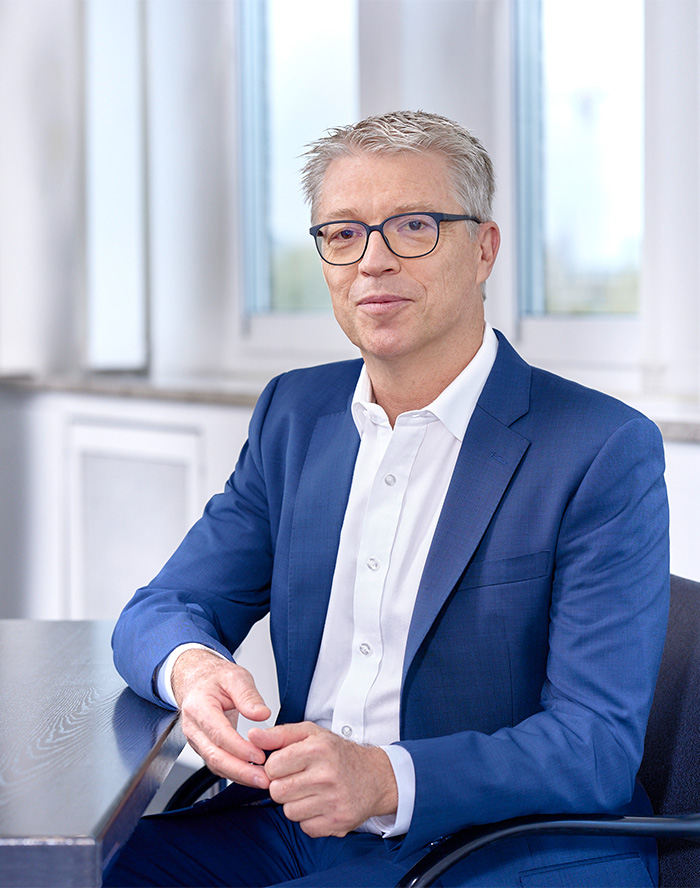 "We are building a completely new plant and setting new standards for the US recycling market."

— Dr. Heiko Arnold, COO
Mr. Arnold, as Chief Operations Officer you are responsible for the performance of the Group sites. Where do Aurubis' strengths lie?
Heiko Arnold Aurubis' huge strength is our international smelter network, which we are continuously optimizing and expanding through targeted projects. This is the basis for our growth. In addition to plant safety and production that surpasses environmental standards, decarbonizing the entire copper value chain is a core goal for Aurubis. We are following through in both of these areas with many important and strategically well-thought-out projects and innovations at our sites – from our battery recycling project in Hamburg and BOB to the construction of a recycling plant for nickel and copper at our Olen site and ASPA, a new state-of-the-art recycling plant in Beerse. Our new Aurubis Richmond site in the US state of Georgia shows that we mean business – and that we know what we're doing. We are building a completely new plant and setting new standards for the US recycling market with our expertise, outstanding metallurgical processes, and know-how.
Starting in the coming year, you will be focusing more on primary and product business, while Inge Hofkens takes charge of the secondary business area. What will your role involve?
Heiko Arnold First of all, I am delighted that Inge Hofkens is joining us on the Executive Board. She has a proven track record as an expert in the field of multimetal recycling. It makes sense to have more than one person in charge of production in this strong growth phase. Growth requires focus and resources. That's the only way that we will be able to fully follow through on implementing our strategy. I will be concentrating on strengthening our key core business, primary copper production, and our product business. We are focusing on efficiency, plant availability, and continuous improvement. We have kicked off a large number of technical projects, are consistently leveraging the possibilities that digitalization offers in the area of production, and are improving our sustainability performance – in keeping with our motto: Driving Sustainable Growth.
"Aurubis is already a leading multimetal recycler in Europe today."

— Inge Hofkens, COO
Ms. Hofkens, from January 2023 you will be a new member of the Aurubis Executive Board with responsibility for the Group's recycling business. Congratulations! What are your expectations for your new position?
Inge Hofkens I am honored by the trust placed in me, and I look forward to working with my fellow Executive Board members and all the Group's employees. Aurubis is already a leading multimetal recycler in Europe today. This area offers huge potential for further growth. I will be using all of my experience to help develop our strategically important recycling business. We have set ourselves ambitious growth targets – and we will meet them!
There is a more detailed interview with Inge Hofkens in the "Empowering Recycling" chapter.