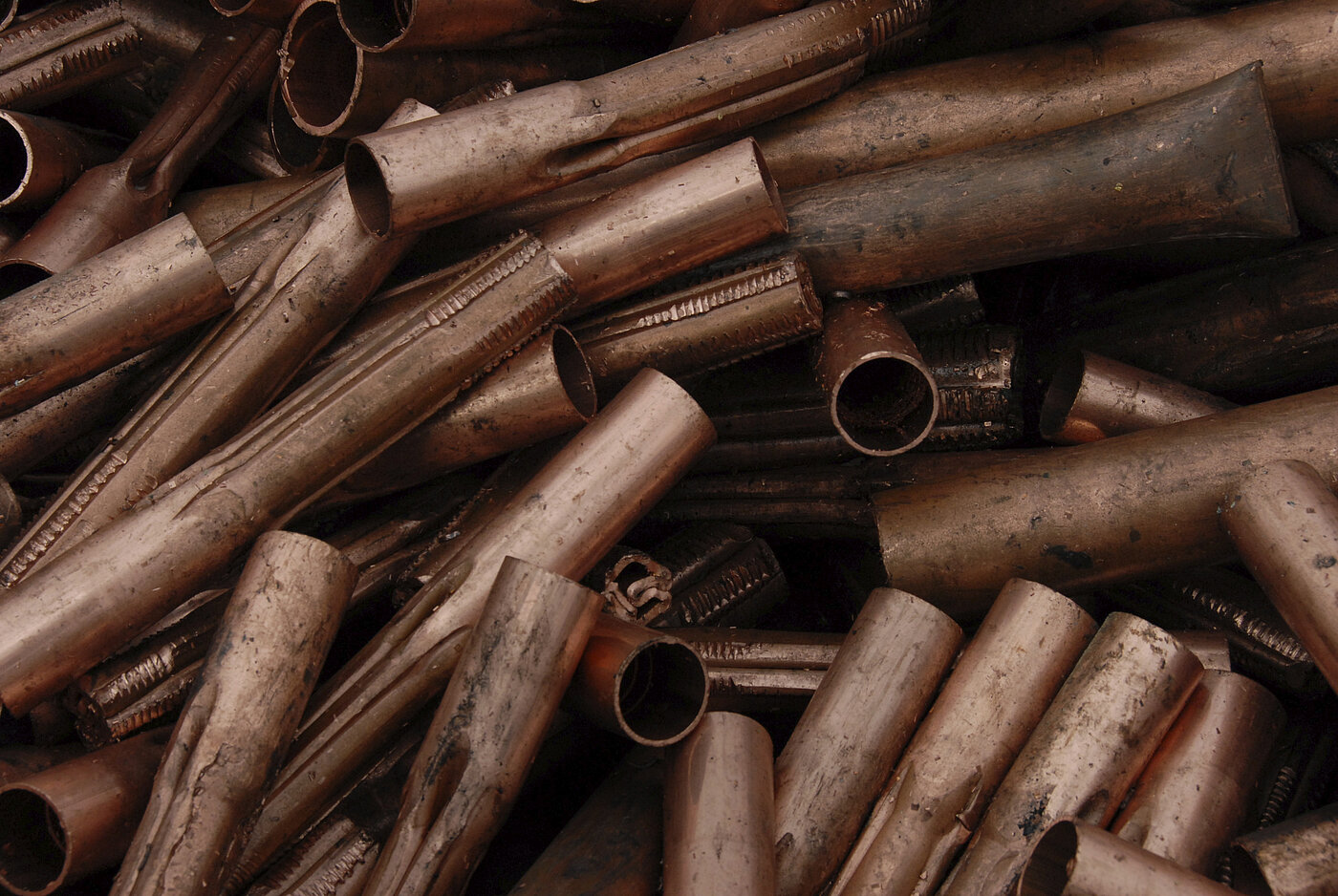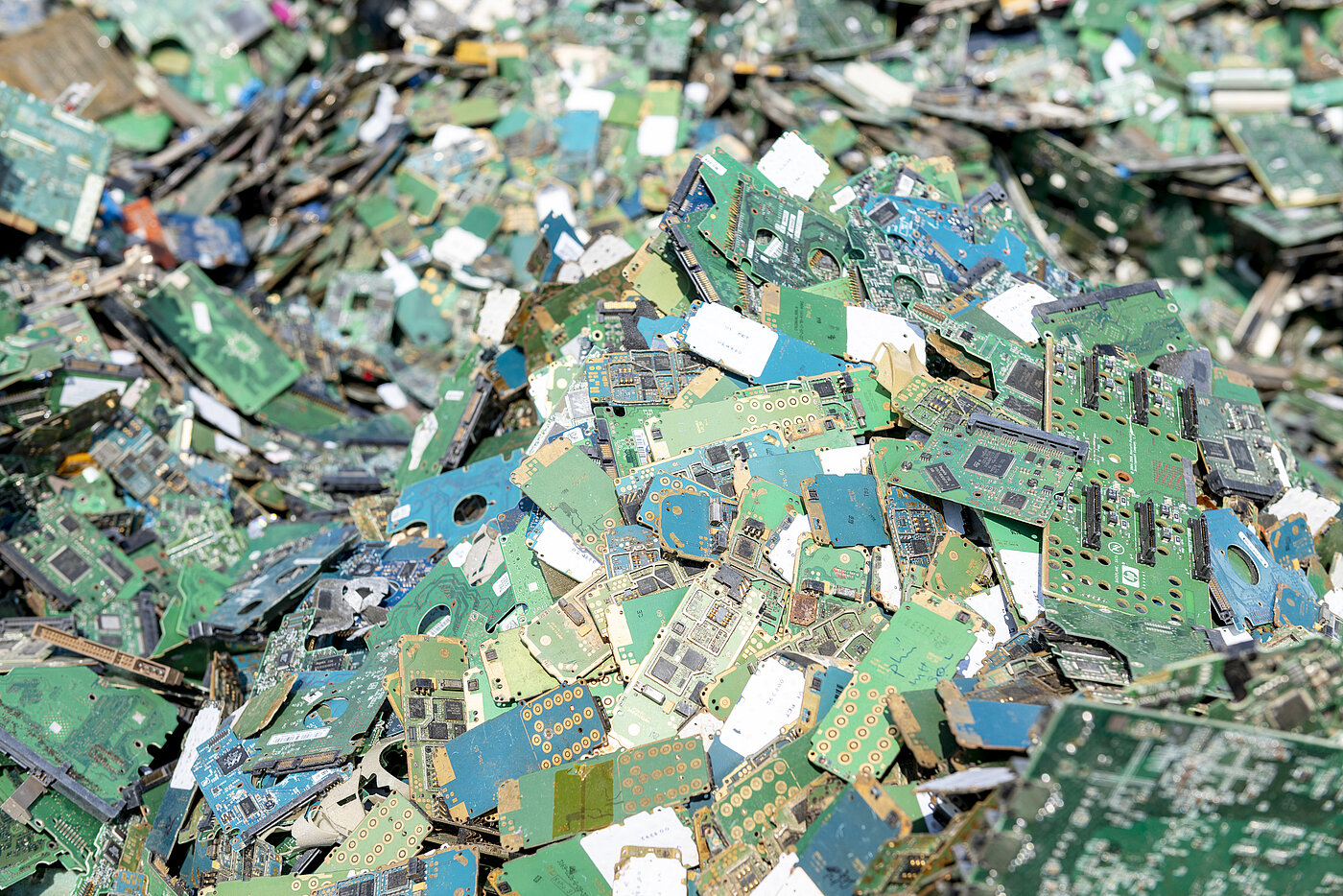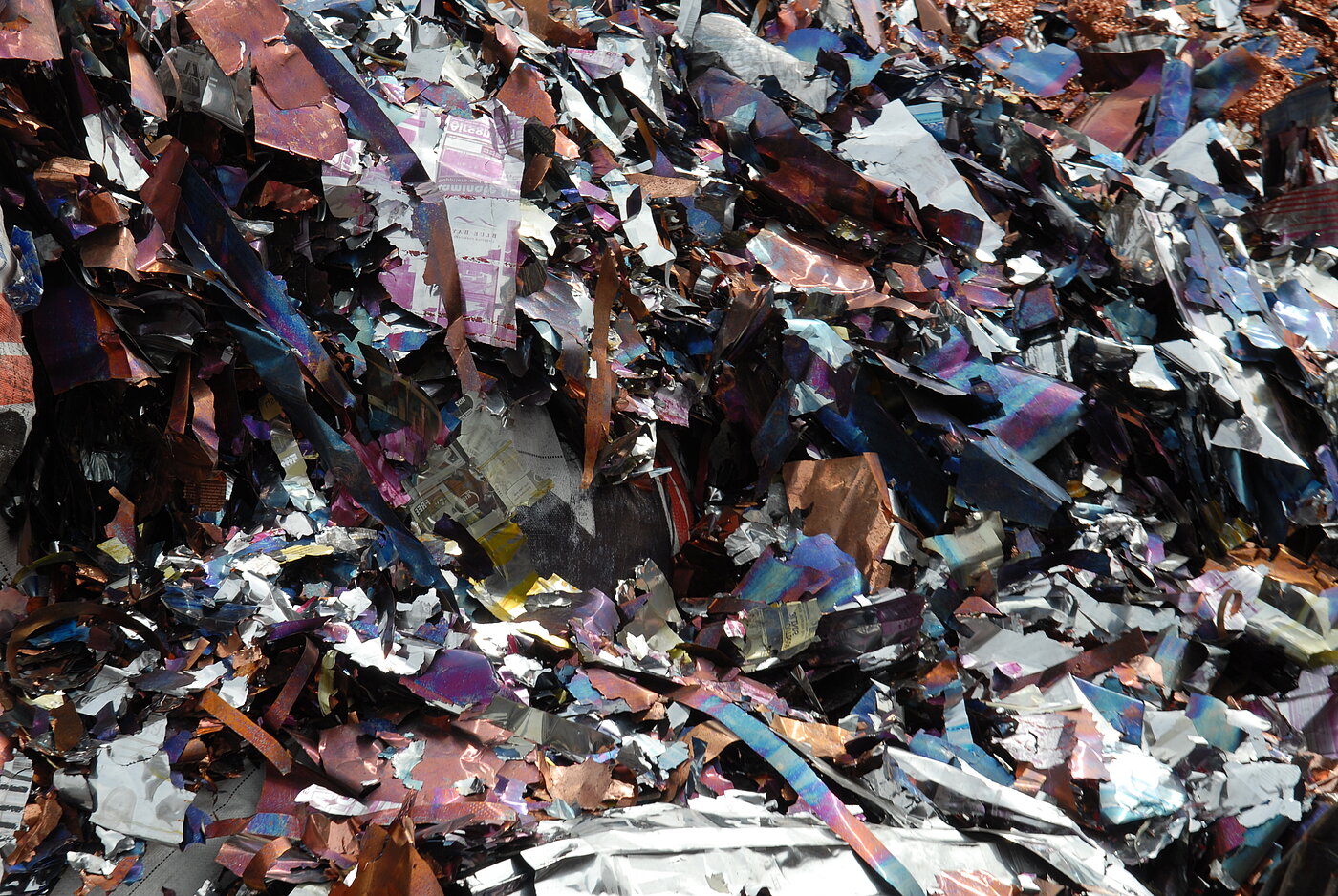 Empowering
Recycling
We see recycling as the answer to industry's growing need for raw materials. That's why we are continuing to expand our forerunner position as one of the world's leading recyclers of copper and other metals. We are building a new recycling plant in the US and implementing two new strategic projects in Belgium that will enable us to return even more valuable metals to the material cycle.
A discussion with Inge Hofkens
The growing importance of recycling is also reflected in the expansion of our company's management team and the appointment of Inge Hofkens as our new Chief Operations Officer Multimetal Recycling as of January 2023.
Ms. Hofkens, you are a trained economist and enjoyed a career at Belgium's Metallo Group. After joining the Aurubis Group, you spent two years working as a plant manager at Aurubis Olen. What are your responsibilities in the newly created role of COO Multimetal Recycling?
I will be contributing my many years of extensive experience in the industry to develop the growing recycling business in Aurubis' international smelter network. Recycling is a cornerstone of our strategy and a key factor behind sustainable and profitable growth. Even now, Aurubis is already processing more than 1 million t of recycling materials. More than 45 % of our copper cathodes are produced from recycling materials.
What role will recycling play in the future?
Definitely a crucial one. The growing need for raw materials for the energy transition and the digital transformation means that recycling plays a crucial role. Metals have enduring value. Theoretically, they can be recycled an indefinite number of times without any loss of quality. Our strategic projects are allowing us to set a course for further growth here (see further below).
Recycling as a driver of the European Green Deal: Where do you see a need for action to ensure that it succeeds?
We have to have fair international competitive conditions, particularly when it comes to energy prices. At the same time, we have the world's highest sustainability and efficiency standards in Europe. To keep metal production in Europe and ensure that the Green Deal succeeds, we need competitive transformation electricity prices for energy-intensive industry.
Moreover, recycling materials have to be available. Every year, around 12 million t of e-scrap is produced in the EU. The volume of end-of-life consumer electronics and kitchen and household appliances is rapidly growing worldwide, but the European collection rate is still too low – despite legal guidelines. We have to ensure that recycling is cost-effective in the EU. In 2021, almost 2 million t of e-scrap was exported abroad. Those are reusable materials now lost to our material cycle.
Moreover, permit procedures in Europe need to be accelerated. Look at the US, where we are building our state-of-the-art multimetal recycling plant. The market potential here is huge, and the conditions – for everything from the planning and approval process to the price of electricity – are ideal. We now need to up the pace in order to achieve a sustainable, circular system. At Aurubis, we are ready to move forward if the conditions are right. We are convinced that the circular economy offers huge opportunities.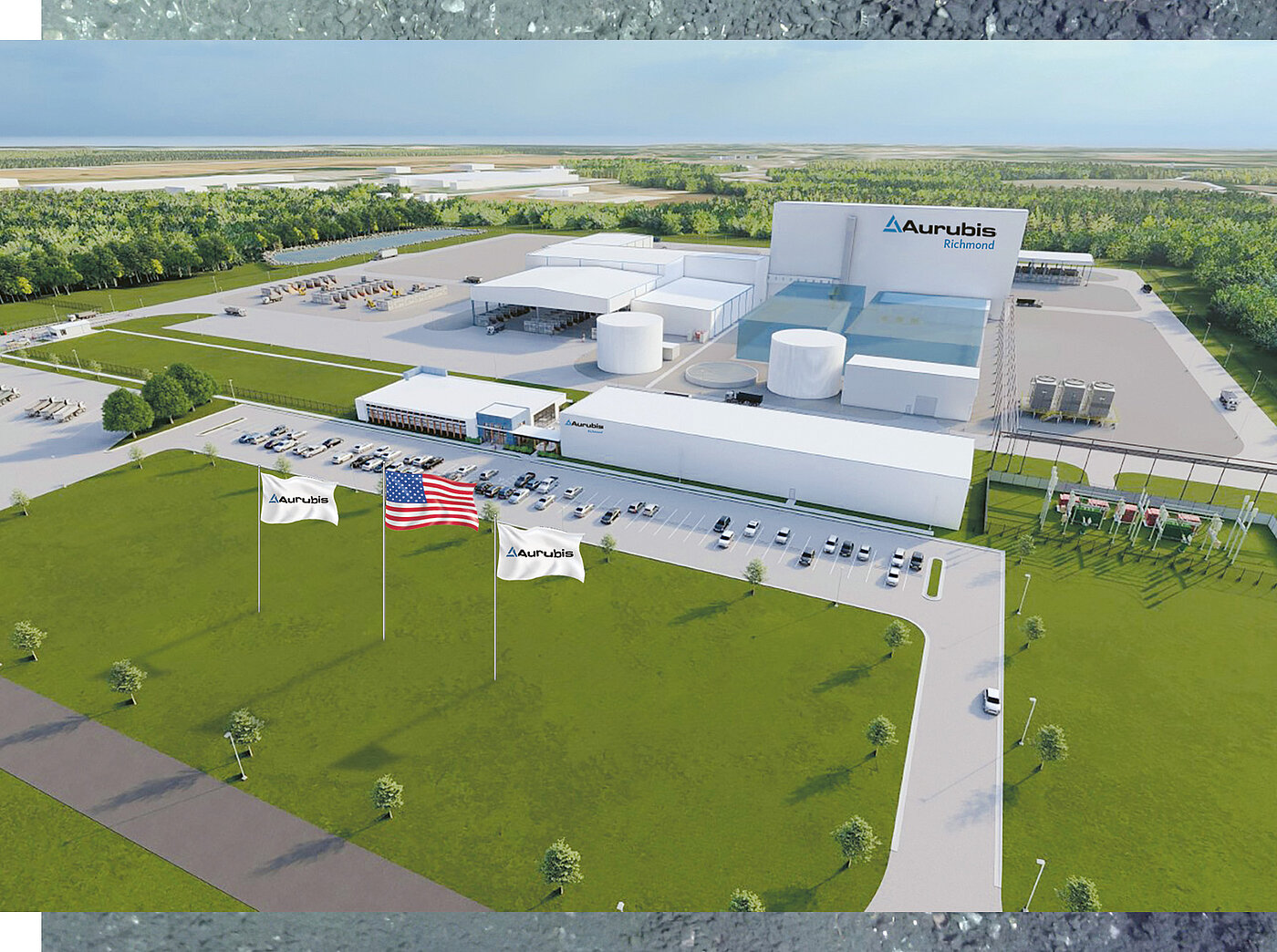 A pioneer in the US
With the construction of our new state-of-the-art recycling plant in Richmond County in the state of Georgia, we are opening up growth areas and becoming a pioneer in the American recycling market.
Currently, around 6 million t of recycling materials containing metal accumulate every year in the US recycling market. Only a small percentage can be processed locally. Due to growing collection rates, declining exports of recycling materials and general industry growth, this market offers us enormous potential for sustainable growth. Aurubis Richmond will be our first secondary smelter for multimetal recycling in the US. Our investment of around € 300 million is one of the largest international investments in the state of Georgia. We are creating more than 120 jobs there. Through our new plant, we are further expanding our position as the world's most sustainable and efficient smelter network, and we are making an important contribution to the circular economy.
Our factsheet on Aurubis Richmond is available here.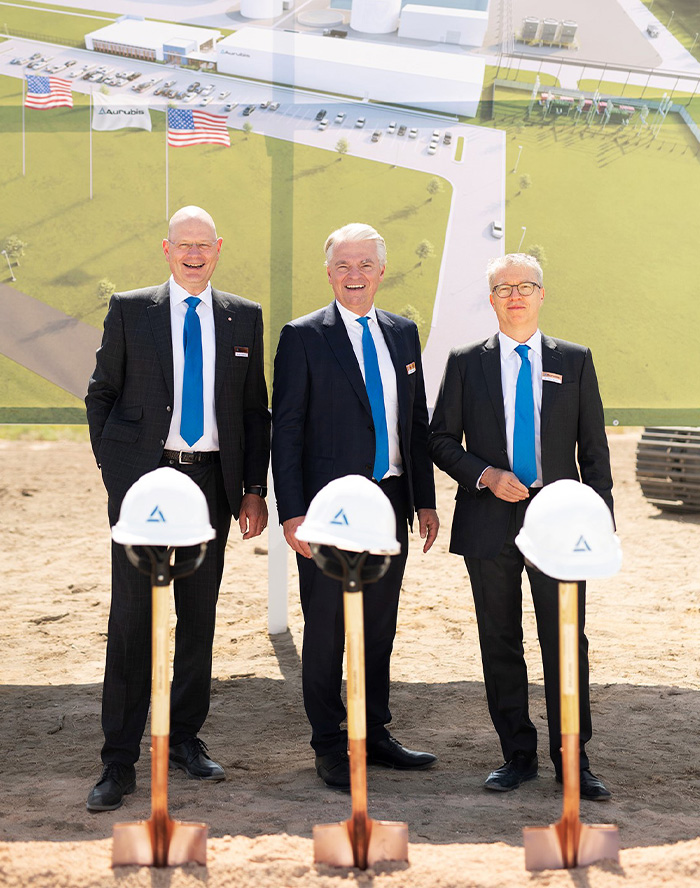 "With our new site in the USA, we are delivering on our strategic agenda and further advancing our experience and technology to become a forerunner for recycling valuable materials containing copper, nickel, tin, and other industrial and precious metals."

— Roland Harings, CEO, at the groundbreaking ceremony in Augusta on June 17, 2022
Once our new plant is fully online in 2024, we will process around 90,000 t of complex recycling materials containing metals here every year – such as printed circuit boards, copper cables, and other electronic scrap – to produce blister copper. This is material that would otherwise be exported or disposed of in landfills. We will directly sell some of the intermediate products on the American market. However, most will undergo further processing at our European smelter sites. We will deliver valuable metals such as copper, nickel, and tin to industry, e.g., for solar power installations and wind turbines or to manufacturers of electric vehicles and batteries. The environmental technology at our new site meets, and in some cases even exceeds, the highest standards. Once Aurubis Richmond has reached its full output level starting in fiscal year 2025/26, we expect to achieve an annual EBITDA contribution of € 80 million.
Investment € ~300 million
---
EBITDA € ~80 million p. a. (from 2025/26)
---
Production launch CY 2024
---
Input material ~90,000 t Blister output ~35,000 t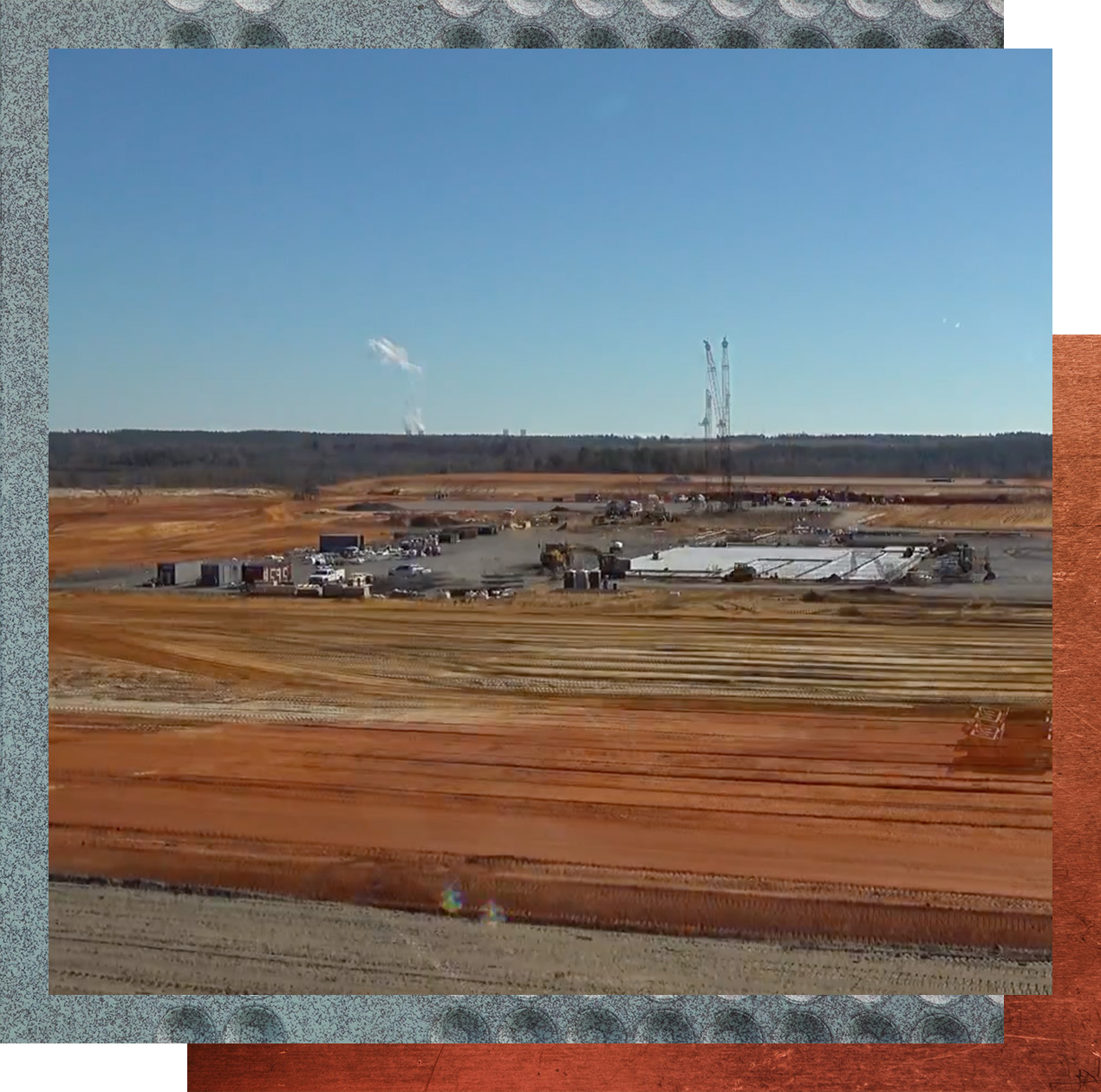 Since the groundbreaking ceremony in June, construction of Aurubis Richmond is progressing rapidly.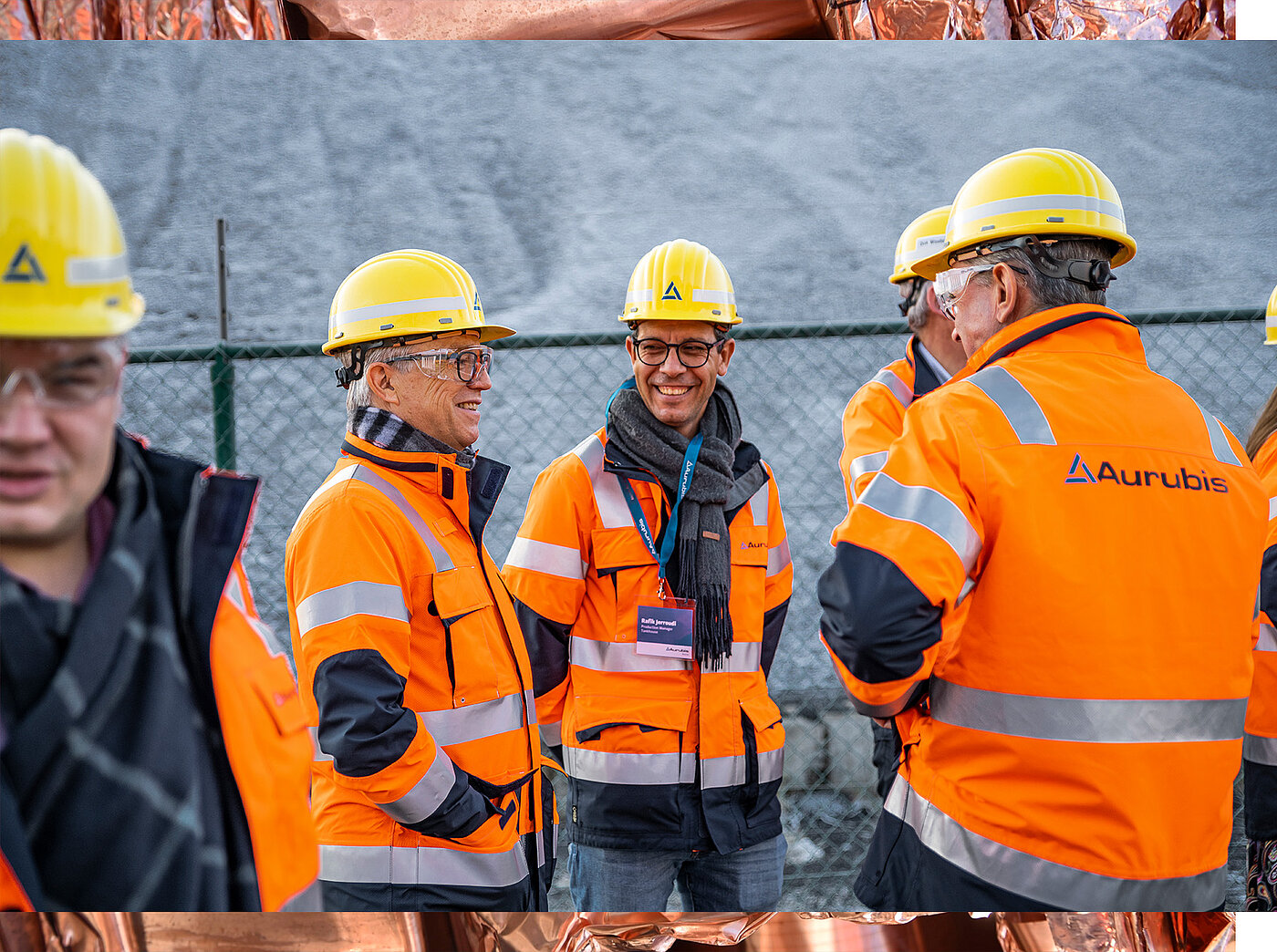 Expanding our recycling expertise in Europe
Aurubis is already one of the world's leading multimetal recyclers today. But that is not enough for us: With two additional trailblazing projects in Europe, we are expanding our recycling expertise step by step here too – and thus strengthening our core business.
ASPA: metal recycling from anode sludge
Recycling discarded electronic consumer goods such as smartphones and laptops is becoming increasingly complex. The number of metals in them has risen sharply, and the product design is also becoming more intricate. Valorizing these metals in a sustainable way therefore requires particularly advanced recycling capabilities. We are meeting this need by investing € 27 million in the construction of a state-of-the-art hydrometallurgical recycling plant at our Beerse site in Belgium: Advanced Sludge Processing by Aurubis (ASPA) stands for innovative metals-from-waste recycling. Our new method allows us to recover an increased volume of precious metals, such as gold, silver, and tin, very rapidly from anode sludges – a valuable intermediate product of electrolitic copper refining – at our recycling sites (mainly Beerse and Lünen). The development of ASPA demonstrates Aurubis' capacity for innovation and is a prime example of the synergies created by the acquisition of Metallo. The groundbreaking ceremony was held on December 15, 2022, and the plant is due to be commissioned in the second half of 2024.
More information on ASPA can be found here.
"ASPA is taking metal recycling to the next level. We're combining speed and efficiency to get even more out of it."

— Inge Hofkens, COO
approx. € 7 million p. a. EBITDA once full output volume reached
FY 2024/25 production launch
---
approx. € 27 million investment volume
approx. 2,500 t p. a. input material in the form of anode sludge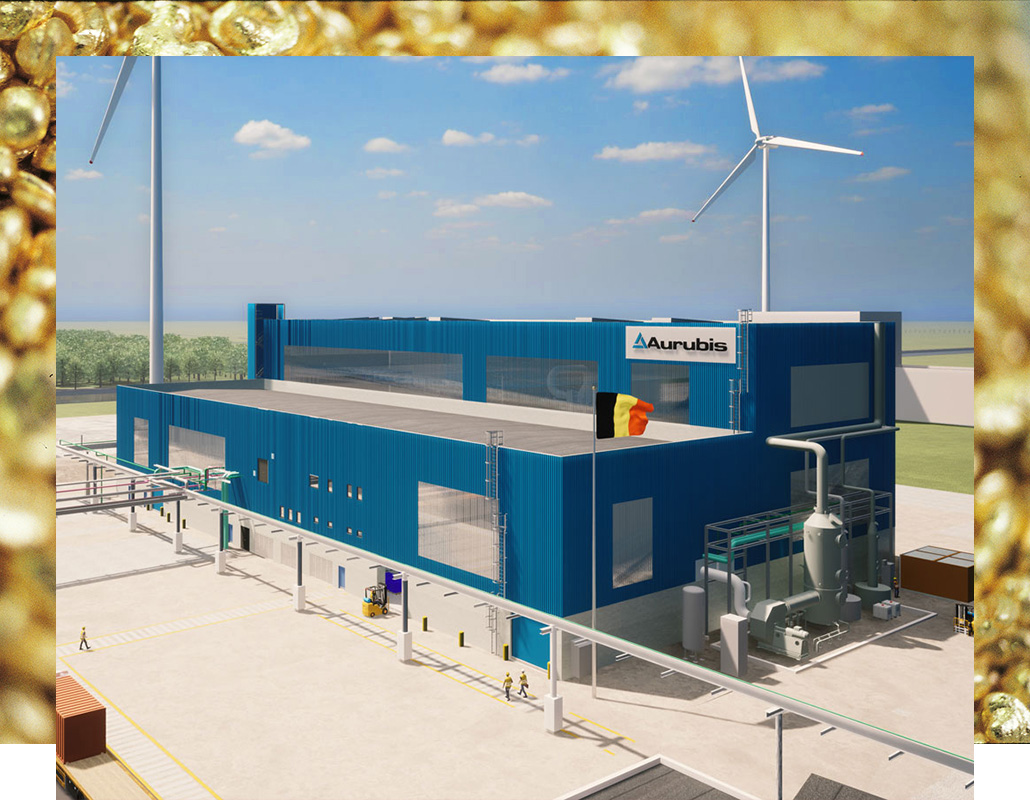 BOB: recovering valuable metals from bleed
At our Olen site in Belgium, we are investing around € 70 million to construct an innovative, energy-efficient bleed1 processing plant. Bleed treatment Olen Beerse (BOB) is a hydrometallurgical process that recovers valuable metals such as nickel and copper from electrolyte streams generated in metal production during electrolysis at our Belgian sites in Beerse and Olen. The facility comprises a complete tankhouse purification system known as "bleed treatment" that removes impurities from the electrolyte (bleed). The project is in the implementation stage and commissioning is scheduled for summer of 2024. The new facility in Olen will allow us to optimize and achieve even greater efficiency in our material flows. Aurubis expects an EBITDA contribution of around € 15 million upon full operation of the new facility in fiscal year 2025/26.
More information on BOB can be found here.
1 Bleed: The term refers to the part of the tankhouse electrolyte that is continuously being purged, as some metals dissolve in the electrolyte. BOB allows copper, nickel, and other components to be recovered and removed from the bleed.
"With BOB, we are introducing an energy-efficient and fast process step that extracts nickel – an indispensable metal for lithium-ion batteries and thus an important component for the megatrend of e-mobility."

— Heiko Arnold, COO
approx. 81,000 t p. a. input material in the form of electrolyte
approx. € 15 million p. a. EBITDA once full output volume reached
---
approx. € 70 million investment volume
Summer 2024 Production launch