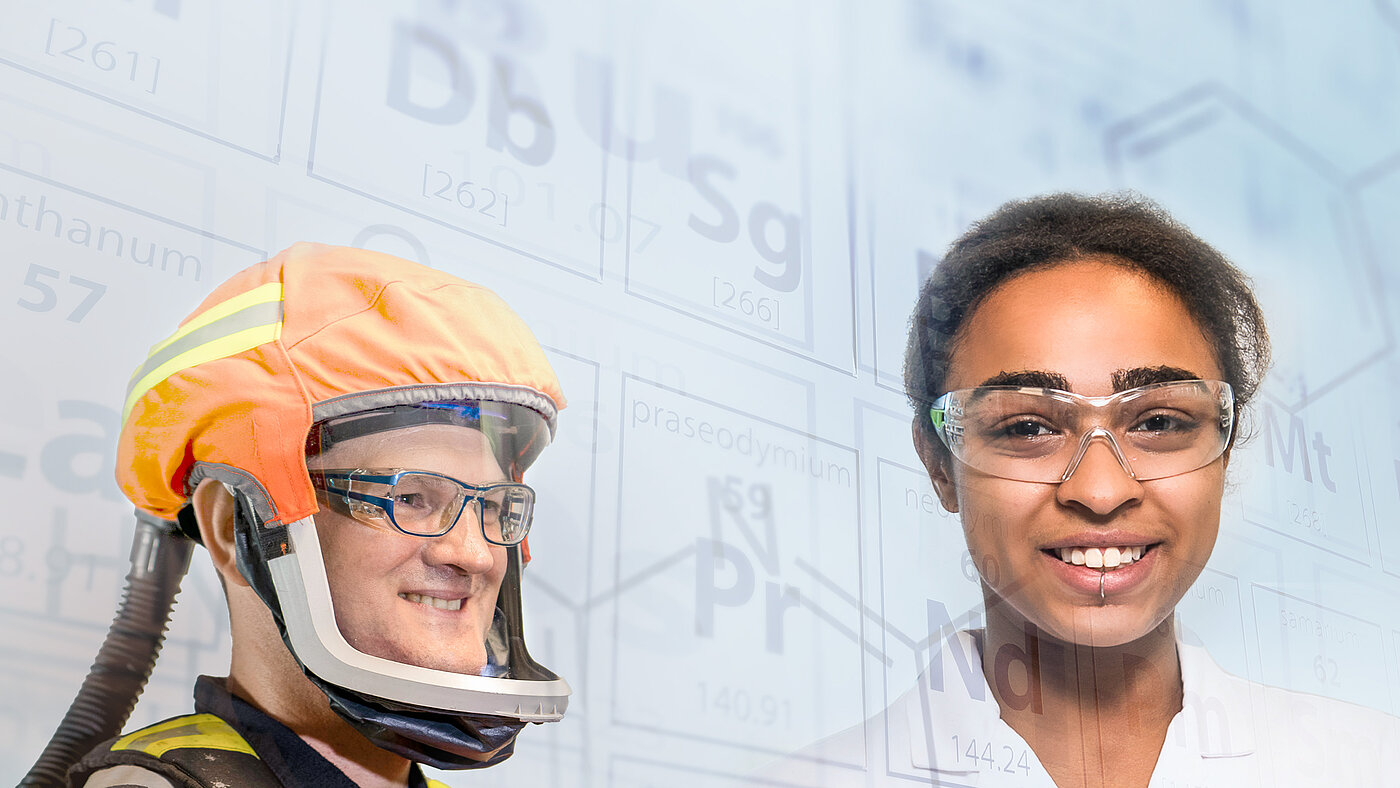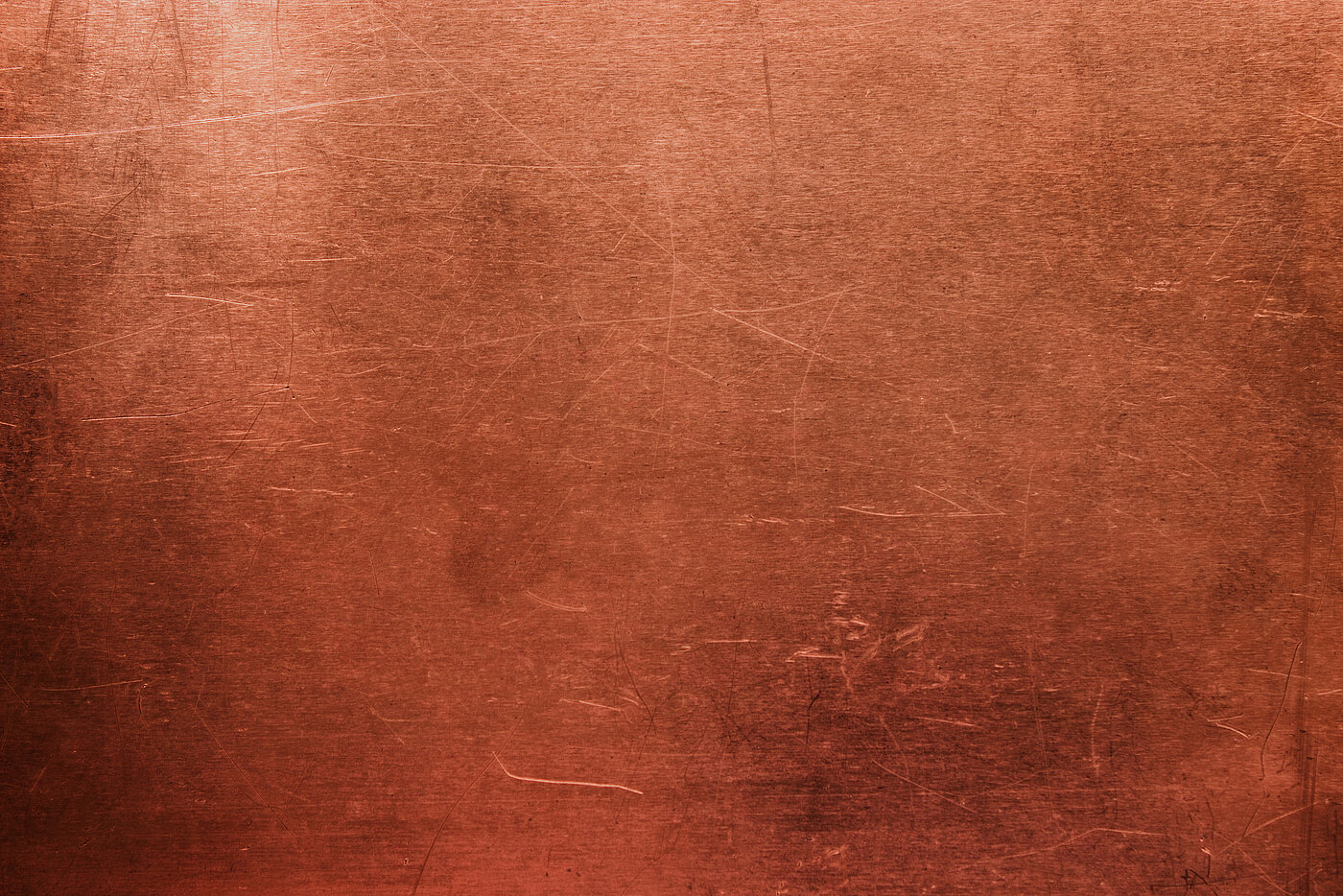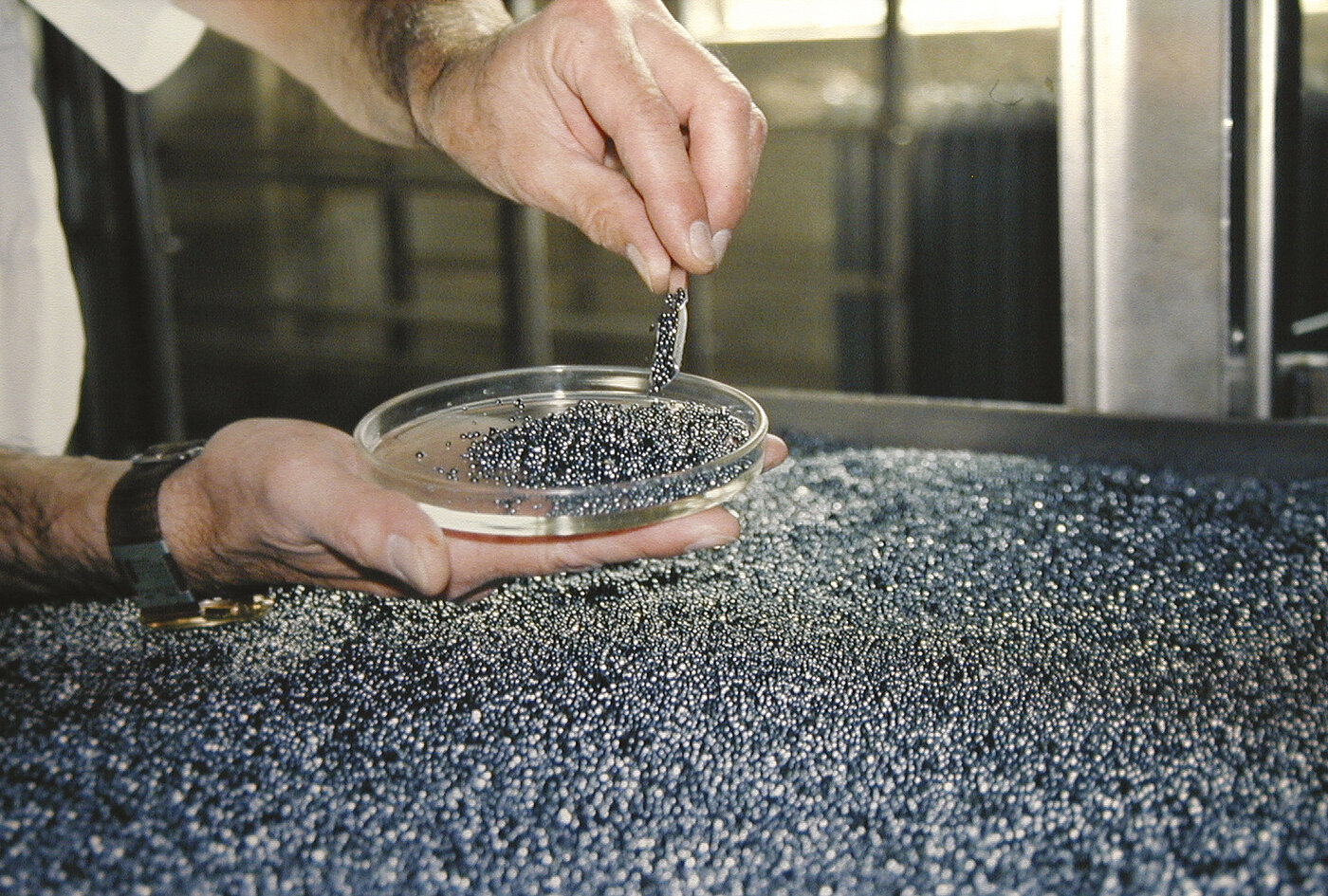 Empowering
Innovations
For more than 150 years, we have stood for innovation. We are continuously optimizing our plants and metallurgical processes. Today, we are a forerunner in the green transformation in our industry and are actively driving it forward. We are a pioneer in testing alternative energy sources such as hydrogen and ammonia, are operating a pilot plant for recycling lithium-ion batteries, and are capitalizing on the opportunities associated with digitalization in all areas. Together, we are building the Digital Factory of the future.
Just as when the company first started out, Aurubis' core focus continues to be producing metals of the highest quality from a range of raw materials. We are working on making even better use of the increasingly complex primary and secondary raw materials and on recovering more metals at a faster rate. Our research and development (R&D) activities are therefore based on optimizing our existing metallurgical processes and developing new processing methods. This involves a focus not just on copper, but on virtually every element of the periodic table – we are multimetal thinkers. Along with laboratories and pilot plants, computers are the most important tool for our R&D activities. We are leveraging all the options digitalization offers to model, understand, improve, and thus speed up our metallurgical processes. Our researchers and metallurgists work closely with our production engineers, mathematicians and data analysts here.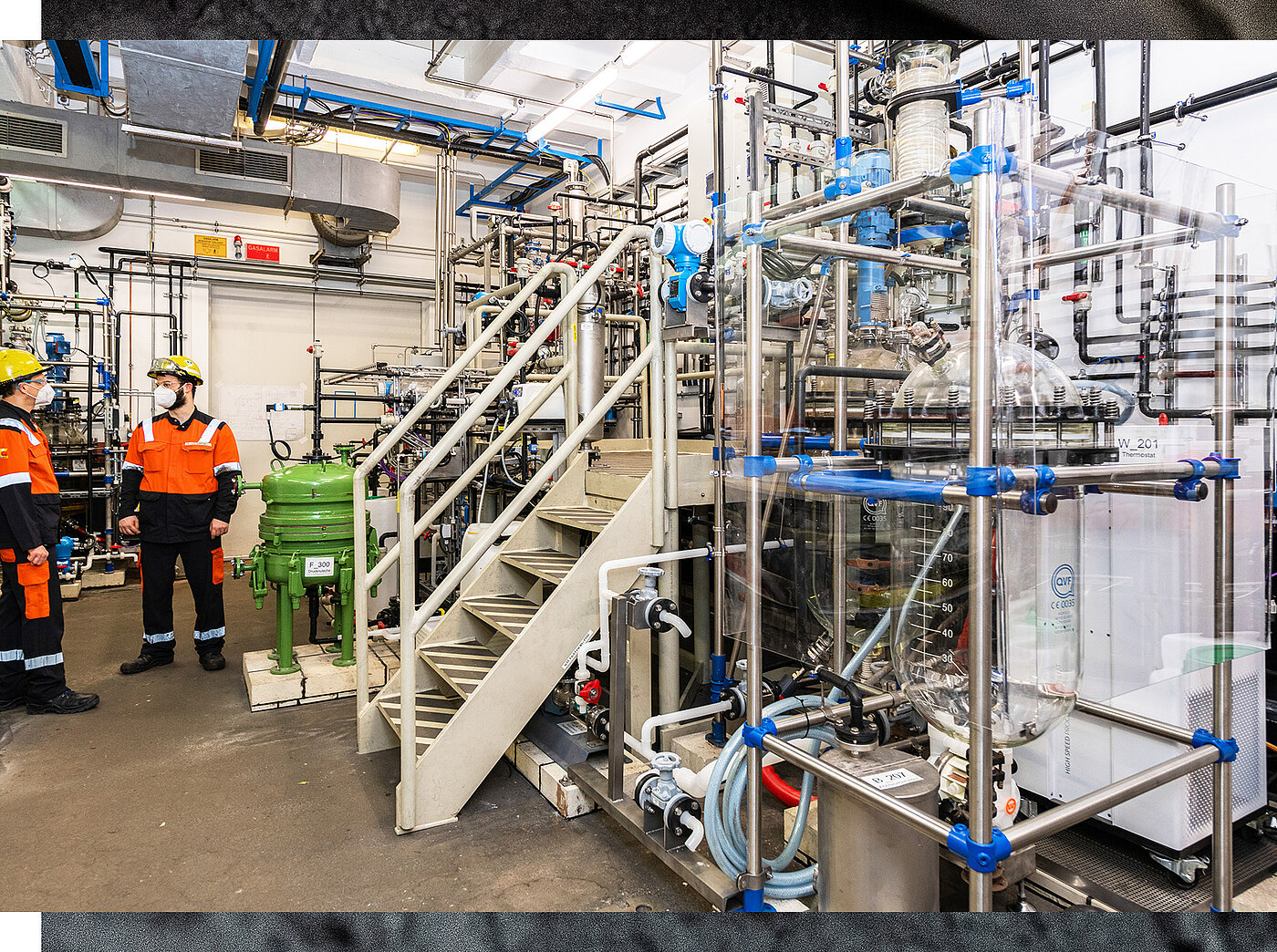 Exploring the future
This is precisely what we are doing in one of our future-oriented projects: In March 2022, Aurubis commissioned a pilot plant for battery recycling at its Hamburg site. Our goal is to close the battery production cycle by recovering the valuable raw materials from the "black mass" out of used lithium-ion batteries from electric vehicles, as well as waste from battery production, and to make these metals available for battery production again.
To achieve this aim, black mass — a mixture resulting from the mechanical preprocessing of lithium-ion batteries — is broken down into its component parts, thus gradually releasing lithium, cobalt, manganese, and nickel. The addition of lithium would raise the number of metals produced by Aurubis to 21. Following the testing of our new, hydrometallurgical process in a laboratory phase and its successful patenting, we are testing on a larger scale at the pilot plant (see image above), further developing the process and collecting important data for the later construction of an industrial scale plant. In addition to economic feasibility and the availability of materials down the road, integrating this plant into Aurubis' smelter network is also a key issue. An appropriate site will be selected based on factors such as the potential use of existing infrastructure and optimal integration of metal flows along with space requirements and cost.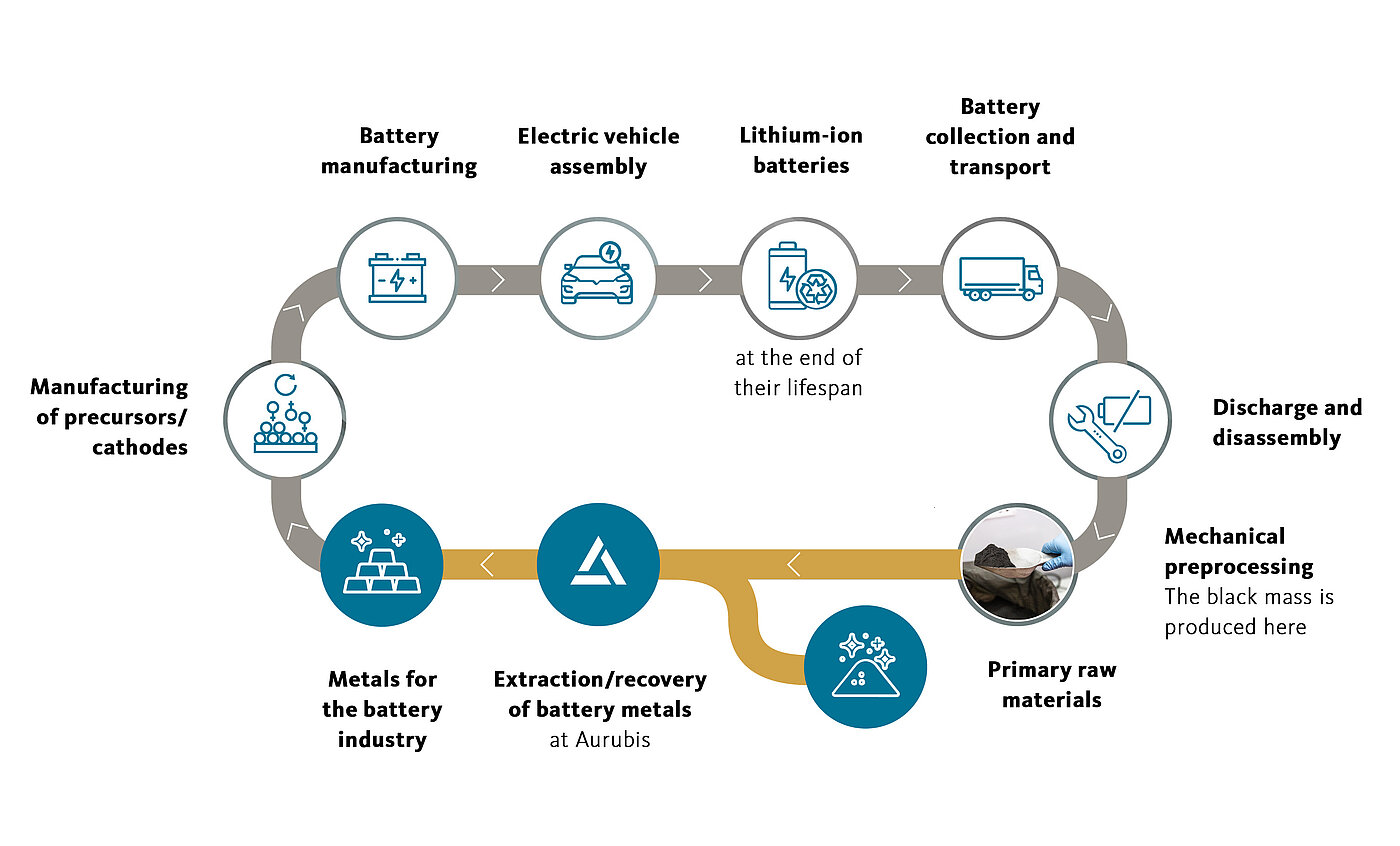 Closing the cycle
Aurubis recovers valuable metals from the black mass out of recycled batteries from electric vehicles.
A green transformation pioneer
In 2021, Aurubis was the first company in the metal production industry to demonstrate that hydrogen could be used at an industrial scale in copper anode production see "Empowering Energy".
Now we are taking another step toward decarbonizing our multimetal production and once again highlighting our pioneering role in the green transformation of our industry: In October 2022, Aurubis took delivery of an initial 13 t of blue (low-carbon) ammonia from the United Arab Emirates (UAE) to be used in our copper wire rod facility at our Hamburg site. In the long term, we intend to fully replace blue ammonia, which is currently available, with green ammonia. The second is produced using renewable energy. We are thus further diversifying our energy supply and reducing our carbon footprint. Our goal is carbon neutral production well before 2050. At the same time, we are making an important contribution toward establishing a hydrogen supply chain between the UAE and Germany. The current delivery was part of the hydrogen collaboration between the UAE and Germany, which was intensified at the start of 2022. Aurubis and the Abu Dhabi National Oil Company (ADNOC) signed the supply contract during a delegation visit led by Germany's economic minister, Dr. Robert Habeck, in the spring of 2022.
"The creation of a blue — and in the future green — ammonia value chain is not just theoretically possible, but practically feasible."

— Roland Harings, CEO Aurubis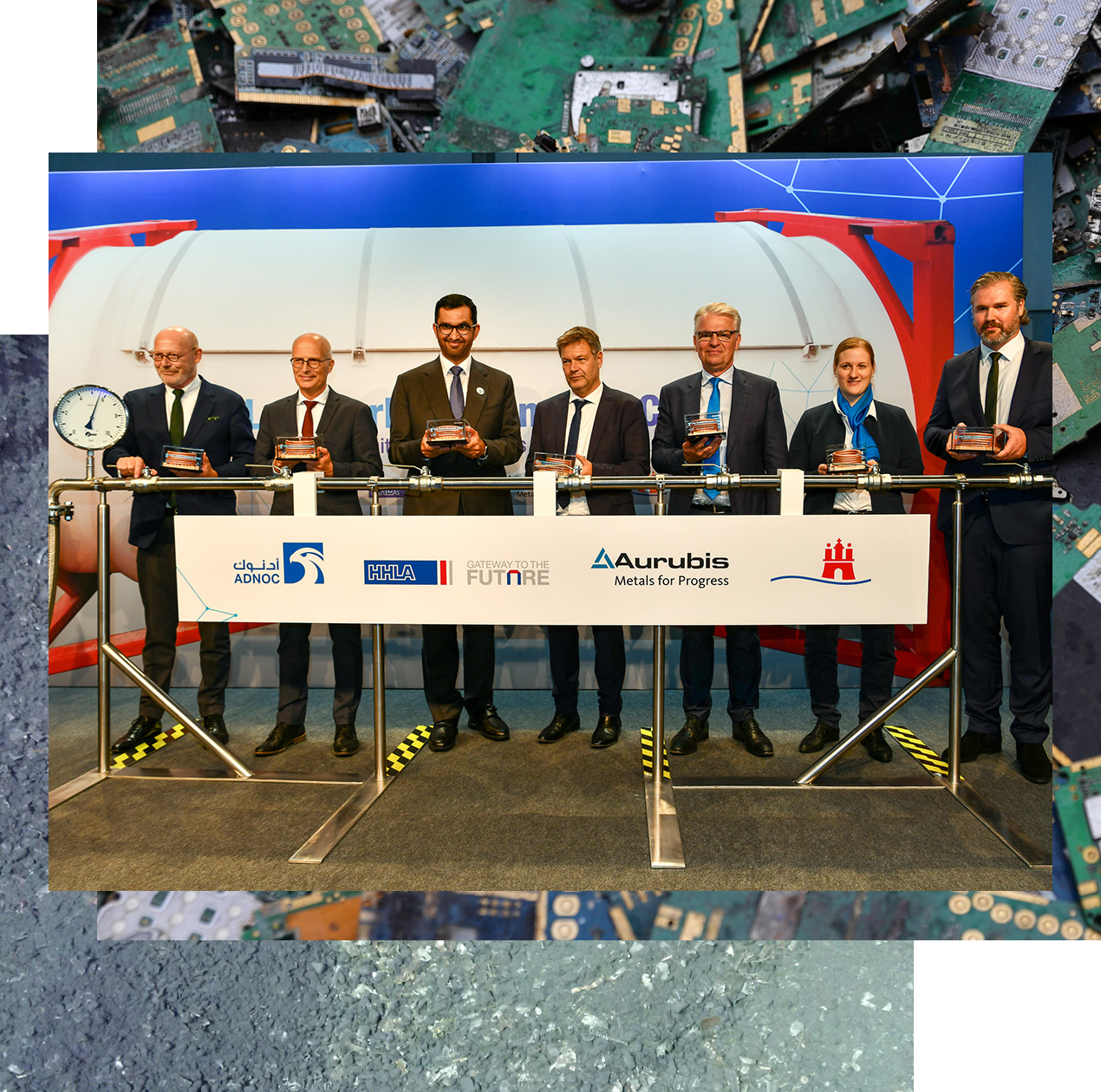 The test series was symbolically commissioned on October 21, 2022 in the presence of the Federal Minister for Economic Affairs and Climate Action, Dr. Robert Habeck; Dr. Sultan Al Jaber, the UAE's minister for industry and advanced technology and CEO of the ADNOC; Hamburg's first mayor Dr. Peter Tschentscher; Torben Seebold, member of the executive board of HHLA AG; and Roland Harings.
Gray hydrogen
Produced using fossil fuels. CO2 is generated in the process.
Blue hydrogen
Produced using fossil fuels, but the CO2 is captured and stored (CCS = carbon capture storage), or further processed as a raw material.
Green hydrogen
Produced exclusively using renewable sources of energy, so no carbon emissions.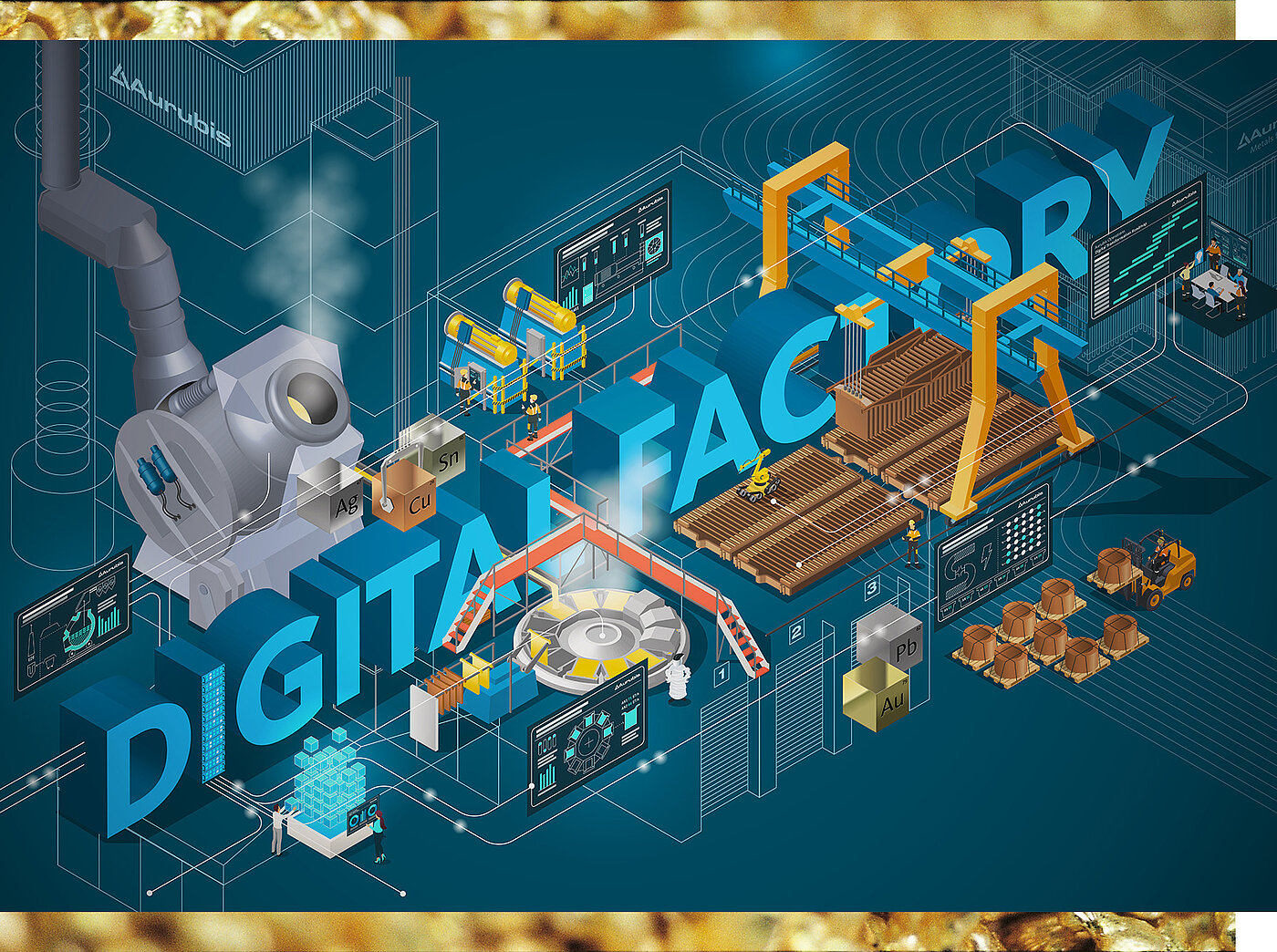 The opportunities of digitalization
We see digitalization as a driver of innovation leading to a permanent process of change that impacts every area of our company – processes, production, and customer relations – and as such forms the foundation of our company strategy.
Aurubis is set to become a digital factory
The Digital Factory is both a vision and a path, as we use digitalization as a means for making continuous improvements to our production through the use of new technologies. With digital tools, we are making our production more efficient, more transparent, more sustainable, and safer – enabling, for instance, an improved mode of operation for facilities, earlier error analysis, and more accurate forecasting for processes. We are pursuing our Digital Factory program together with our smelter sites and our data engineering and data science teams. In the core team, around 15 members of staff (depending on the relevant use case) work on implementation on an interdisciplinary basis.
New software generations and IT systems
To ensure the successful digitalization of its processes, production operations and customer relations, Aurubis is implementing various programs and projects at the same time. We are introducing the latest S/4HANA software generation from SAP under the "Fusion" project name and ensuring the standardization of business processes at our smelter sites. Non-SAP processes and IT systems are being harmonized in additional projects and linked with SAP.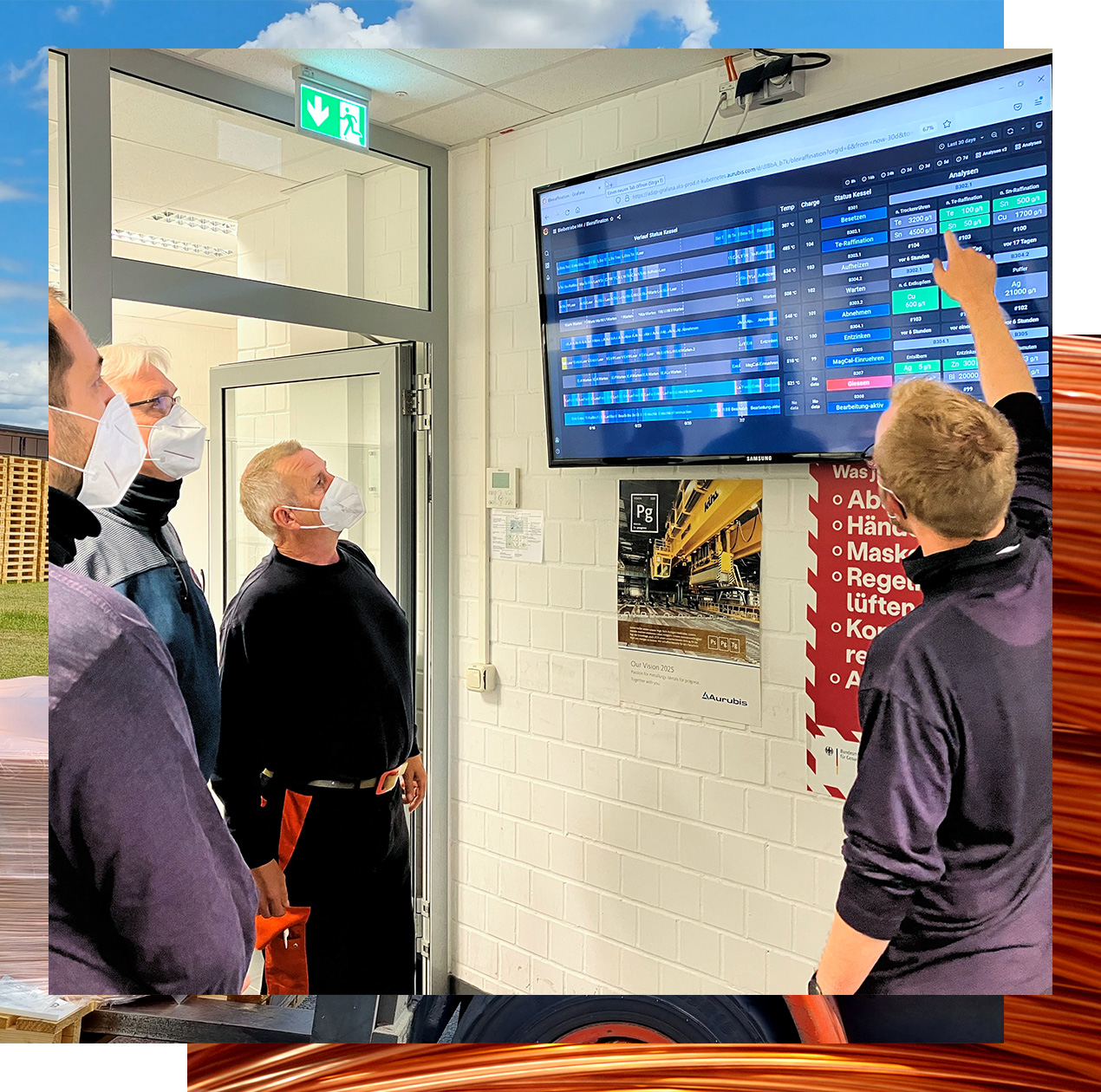 With the help of the Digital Factory, a dashboard was set up in our Hamburg lead plants for the daily analysis and utilization of production data.
Aurubis' Business Partner Portal launched
Our Digital Innovation Lab is an important aspect of the company's transition to a digital future. We develop digital services for customers and suppliers here. These include our Business Partner Portal, which began offering our customers and suppliers an initial range of services in August 2022. It is currently available for existing suppliers in the recycling business segment. Further product areas and sites are continuously being added. Within the scope of existing business relationships, the portal provides digital contract information, while also allowing users to check on and manage deliveries and to fix metal prices while gaining related insights and an overview.
For more information, see here.
An Internet of Things platform for production operations
Aurubis acquired azeti GmbH, Berlin, in 2020. This software start-up is supporting our digitalization strategy with its Internet of Things platform, as a recent example from Aurubis Olen demonstrates: Here the platform is being used to monitor the condition of the inductor, the key component in the smelter furnace. azeti is also developing our new Manufacturing Execution System (MES), which covers areas such as our inventory management and will be rolled out throughout the Group. MES is Aurubis' second-most important software package after SAP.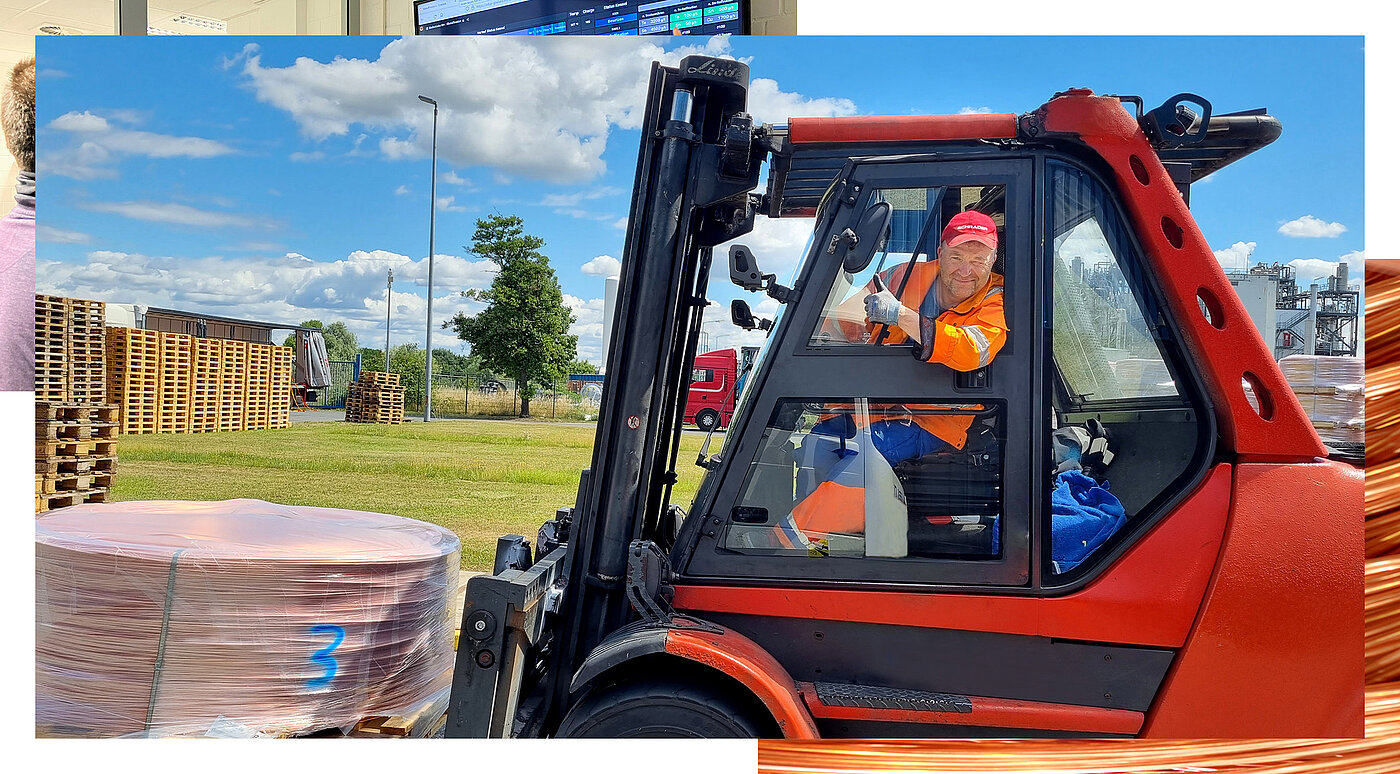 Digitalization of logistics
In addition to its broader impact at a structural level, digitalization is increasingly shaping the field of logistics. Our sites use digital tracking tools for incoming deliveries of materials or outgoing deliveries by ship, truck, or container. With the support of Group Logistics, a digital time slot system is being introduced for the last few meters to the plant to assist road haulers with loading and unloading.